Editorial/Op
City Hall – What's the Rush? I Agree!
By
|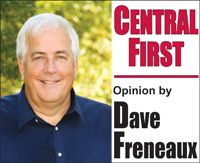 I believe the priority for the City of Central is clear: Drainage First. Now the Shelton administration is pushing to build a $4.7 million City Hall right now, in a hurry, in 2018, and pay for it using Central's cash reserves. I disagree. Drainage First.
I actually supported the building of a city hall in 2014, because more than 90% of the cost was going to be paid for by the state, giving Central a nice but modest City Hall for $157,000. Today's front page article lays it out for you. Because the project was never begun, the state was able to reduce state funding to $400,000, meaning that Mayor Shelton's proposed $4.7 million City Hall would require that $4.3 million be paid for out of Central's cash reserves.
But here is the good news! While I disagree with now-Mayor Shelton about City Hall, I agree with then-Candidate Shelton. This is Candidate Shelton's stance on building City Hall on September 5, 2013:
"In today's Advocate on page 3B, there is an article about Central seeking land for a new City Hall. In the article it is stated that we have "$8 million in non-dedicated funds". This is true. It goes on to say "he'd [Mayor Watts] love to see the City Hall built without borrowing money, but there is always the possibility of selling bonds to get additional funds if needed." Several things come to mind. I thought we needed that surplus for emergencies, as has been stated numerous times at council meetings. I personally hate to see us go into debt so early in our years as a city. I wonder what the citizens who are worried about their ditches not being cleaned out on a regular timeframe feel about being told we don't have money to do that, but we can build a City Hall. How do you feel about the street lighting, road shoulders and other safety concerns, which are plentiful, being on a back burner to a City Hall. We have attempted to do some work in that area, but there is plenty more to do. What is the case for needing a City Hall now? I can remember the Committee on Councils recommending 2 additional council members being told the city shouldn't spend an additional $20,000 a year, suggesting we can't afford it. But now we can ante up our $8 million in surplus for a City Hall? The article states also, the Mayor hopes to have a recommendation from the Site Selection Committee by the end of October. What's the rush?"
Two things have changed since 2013. A different mayor sits behind the desk in City Hall, and most of our city flooded. I don't think either of those events should make a big new City Hall a priority when the city does not even know the scope of work to be done to fix the drainage problems. Finish the Comprehensive Drainage Plan, fund the solution, and then maybe look to spend whatever money might be available for "wants" versus "needs."
The good news is that between Candidate Shelton, Mayor Shelton, and me, two out of three agree: City Hall – What's the rush?