Editorial/Op
Public Records Done Right
By
|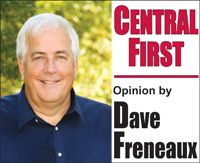 Whether you are a newspaper trying to report the truth to the readers, a homeowner fighting to protect his property, or simply a citizen interested in making sure that the actions of elected officials are above board and done in full view of the public, access to public records is an important and fundamental right of the people.
Originating from my role as a journalist for this newspaper, the latest legal battle to force the city to comply with the law and release public records has been going on for over two years. I have written about this several times, and as related in this issue's front page article, it will finally come to court in May. But instead of dwelling on the fight over what has been done wrong, here is my take on "Public Records Done Right."
Immediate means immediate! The law states that when a record is available and not in use, it is to be provided "immediately." To me, that means it should be copied and given to you as soon as you hand the request to the city, not three days later.
Can't we just email these? I believe that an email simply stating what record a citizen wants to see should be enough, and legally, it is. There is no need for a complicated form to be handed in at an office somewhere, and then another trip back in a few days to pick up the requested record. It's all scanned anyway, so just email the requested document to the citizen. How simple would that be?
Why do we have to ask? Many cities post their financial reports on the city website each month. If the city is being run correctly and efficiently, a complete accounting of every tax dollar collected and every penny spent should be posted for everyone to see, every month. Many other reports could and should be posted as well. If the city does not currently have the technology, most of our grandkids could probably get it done.
What is a Public Records Custodian? A New Orleans judge recently looked at a public official who was trying not to release records to a citizen and stated, "You are a Public Records Custodian. A custodian is someone who takes care of something that BELONGS TO SOMEONE ELSE… these records BELONG TO THE CITIZENS… GIVE THEM THEIR RECORDS!" I think that about sums it up.
Louisiana case law clearly states that, "The constitutional right of the public to access public records must be construed liberally in favor of free and unrestricted access to the records, and that access can be denied only when a law specifically and unequivocally provides otherwise." The government should be looking for reasons to make access to public records easier on the citizens instead of looking for excuses to deny that access or to make it more difficult. That would be "Public Records Done Right," and that would be Good News for a Great City.