Community
NHS Autism Center Opens
By
|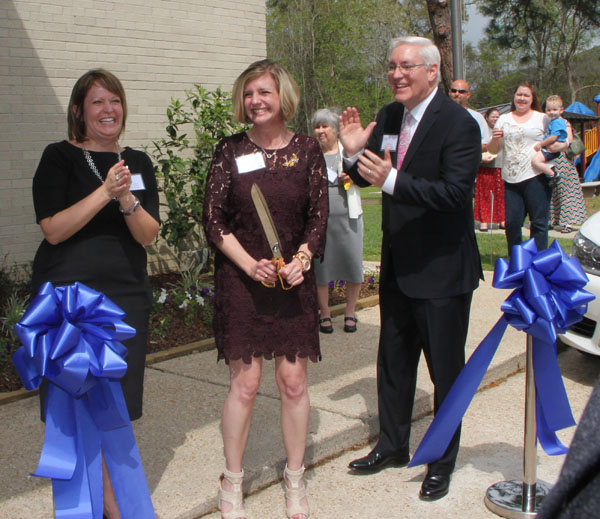 By Mia Freneaux
Two years ago, Central resident Debbie Dougherty was dropping off her granddaughter at a center which provided therapy for Autism-spectrum children when it hit her. "I remember standing in the parking lot, watching all the parents and grandparents struggling with children who were in various stages of meltdown, and I heard a voice clearly say, 'We're going to fix this.' I realized God was speaking to me, but my response was, 'I'm 60 years old, Lord, I know nothing about Autism, all I know is I'm taking my baby to therapy.' Then 2 weeks later, at 2:00 in the morning, the Lord said, 'I brought this task to you, and I will bring you the people to accomplish it.'" And so the Central Community Autism Awareness, a non-profit organization, was born.
The very next day, a friend of Debbie's called and told her she needed to meet Steve Whitlow. "I had no idea who he was!" Debbie shared. Steve and his wife Sharon are following their own vision of providing help for young adults on the Spectrum with Gateway Transition – a program that teaches them job skills and life skills so they can be independent. Their ultimate goal is to provide supervised housing for young adults.
"Steve and I met for coffee, and he told me I needed to meet Shelly Hendrix" – the next link in the chain. Shelly, the mother of a grown son with Autism, had been an activist for years, appearing before Congress, serving as Vice President of Autism Speaks, and currently working for NHS. "She connected me with NHS," said Debbie.
NHS is a Pennsylvania-based organization that has been in existence for 50 years. Its mission is to "provide care and services to people with special needs." According to its website, NHS, through its subsidiaries, "is a leading provider of community-based, non-profit education and human services. More than 10,000 employees provide care to almost 40,000 adults and children throughout Pennsylvania, New Jersey, Virginia, New York, Maryland, Delaware, Louisiana, and Michigan."
Shelly had resigned from her position with Autism Speaks to work for this organization. She put Debbie and two other members of CCAA – Rachel Howell and Debby Tullis- in touch with NHS's CEO Joe Martz. After hearing these ladies' dream for a center for Autistic children, Joe, while standing in the parking lot with them, got on his cell phone and called NHS's CFO and told him, "We're fixing to open a school in Baton Rouge – it's happening!"
"I knew NHS was the right partner for this vision," Debbie stated, "They don't just take care of the student's needs, they care for the whole family." CCAA and NHS joined together and located the perfect place for the new school – the former Brighton Academy was for sale. 9 months later, on March 7, 2017, they held the ribbon cutting for the new "Shelly Hendrix Academy" – one of only 3 of NHS's schools to be named for someone. The school is already filled with ages 2 through 22, all getting the education and therapy they need.
Now NHS and CCAA are partnering again to build a brand-new state of the art school for special needs children – right here in Central! "It's going to have a school for children on the spectrum, and it will also offer therapy for children with ANY special needs," Debbie shared with enthusiasm. In addition, NHS' Executive Director of Behavioral Services James Sharp will be working with both the new school and Gateway Transition to create a bridge so that children can move smoothly from one program into the other. This will be the first program like this in the nation. Debbie insisted, "This was NOT my idea!! God laid this on my shoulders, but He was the one Who made it come to pass. I just followed His direction."
For more information, go to the Central City Autism Awareness Facebook page.
Pictured Below: Shelly Hendrix; Derrick Yacovelli, Chief Financial Officer NHS; Debbie Dougherty, Central City Autism Awareness; Karen Markle, Executive Vice President for Education NHS; Joe Martz, CEO NHS; Pictured at Bottom: Steve Whitlow with James Sharp