Community
A Dog for Dane
By
|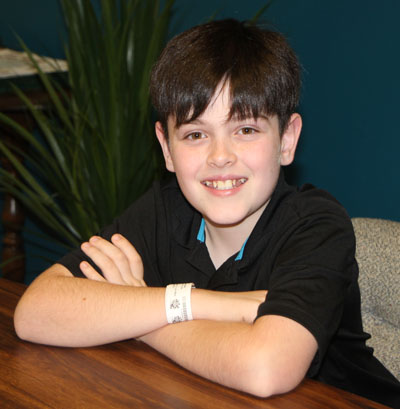 By Mia Freneaux
One of the privileges of writing for Central Speaks is getting to meet remarkable people. One of these is Dane Camus (pictured), a 6th grader at Central Middle School. A little over a month ago, this exuberant 11 year old came down with what he thought was strep throat. A call from his doctor landed him in the Emergency Room, where it was discovered that his blood sugar had reached an astonishing 620 (normal is between 80 and 100). Thus began a 2 day stay in ICU, followed by 2 weeks in a regular hospital room, and the diagnosis of Type I Diabetes.
Dane is a typical middle school boy – interested in a wide variety of activities including archery, video games, rock wall climbing, helping his granddad in his shop, and drawing. Life turned upside down for him and his family last August when their home flooded with 5 feet of water. The last 7 months have been spent in a FEMA trailer. The diagnosis was a further blow, but despite missing most of the last month of school, Dane keeps a 3.5 grade point average.
I met with Dane the day he was discharged from yet another hospital visit. Keeping his blood sugar within normal levels is a challenge, but one he insists on taking care of himself. Type I Diabetes is caused by the immune system attacking the pancreas. Dane must measure his sugar levels, give himself insulin shots, and keep his own journal. He is determined, even at such a young age, to be as independent as possible.
Enter "Diabetic Support Dogs of America." While researching Type I Diabetes, Dane discovered this organization that trains dogs to sniff their owners and detect if their blood sugar has risen or lowered too much. They then paw at the patient to alert them. If a patient is unable to respond to the dog, it is trained to find help. It takes over 1500 hours of specialized training, including the training given to FBI and ATF dogs, for an animal to qualify as a support dog. The dog is trained with samples Dane will supply, so it can tell exactly when Dane is in trouble and needs help. "He has a college education," Dane says with a grin.
Dane immediately saw that this type of dog could give him the independence and confidence he needs to lead his life as normally as possible. It has become his goal to acquire one of these remarkable dogs. He immediately drew up a poster and gave it to local businesses to put in their windows entitled "Help Dane Get a Support Dog!" He also researched and created a "YouCaring.com" site, where he posted photos of himself and wrote his story. "Knowing I'm getting a Diabetic Support Dog is keeping me going! He even gets to go to school with me! Raising money for a dog also helps me take my mind off things," Dane candidly confesses.
The goal is a big one. Dane has set September as his target to raise the $15,000 that one of these dogs costs. The program pays for the dog, the training, and all veterinary bills throughout the dog's life. Dane will have to undergo several days of training himself once his dog arrives. The thought doesn't daunt him, he is excited at the prospect!
Dane is hoping that folks will share his story to increase his chances of raising funds, and also that folks will send in fundraising ideas. His energy, despite his diagnosis, is fierce. He wants someday to be a doctor ("My initials are D.O.C." he says with a laugh) and help others. In the meantime, his dearest wish is for a dog that will help him. When asked if there was anything else he desired, Dane answered mischievously, "Well, the front page would be nice!" Here's one wish granted, Dane.
To help Dane reach his goal, please go to YouCaring.com. In the upper right hand corner is a search engine, type in "Help Dane Dial Back Diabetes".