Community
Welcome Back, Daniel Wesley!
By
|
By Mia Freneaux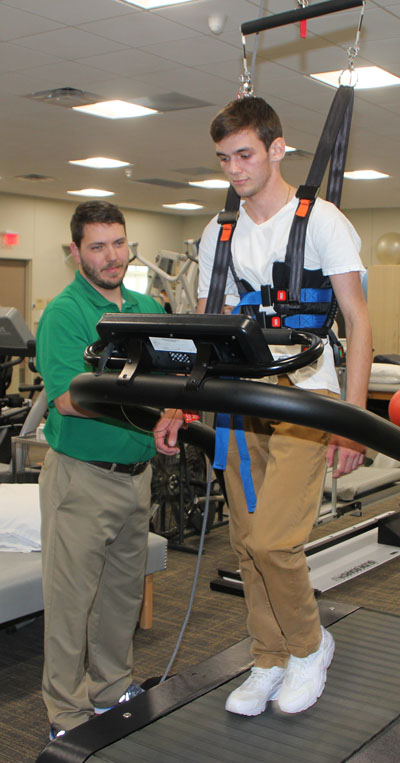 17 year old Daniel Wesley smiled sheepishly as an elderly lady hugged him last Tuesday at Central Physical Therapy. He had arrived for one of his three times a week sessions with therapist Erik Strahan when the lady spotted him and told him she had seen him on TV the night before. This has become commonplace for the Central High School student, who was shot and run over by an assailant as he tried to help a gunshot victim on November 27. After several surgeries to put rods and pins in his leg and arm and 3 weeks lying in a hospital bed, Daniel was sent home to begin intensive therapy.
"I mostly try to lay low," Daniel shared on his growing fame. "I could go without the recognition but at least it's about good stuff. As an athlete, you dream about being someone's role model in sports. You don't ever think it will be about something like this!"​
Returning to school this last Tuesday, Daniel was enjoying the return to some normalcy in his life. "It was good to see all my friends." Despite his injuries, Daniel, whom Erik describes as "stubbornly determined", is on the A/B Honor Roll with a 3.7 GPA and will graduate this Spring with his class. In the meantime, he is pushing himself to regain his strength. His goal? "I am trying out for the track team to run the 800 meter."
"A person's mental attitude definitely affects the speed of their recovery," shared Erik. "People who dwell on things and think of themselves as victims take much longer to heal. Daniel refuses to accept how badly hurt he was. I have to hold him back!"
Daniel's doctor expects him to make a full recovery. "Even if he didn't, I will!" stated this remarkable young man. "I am blessed every day with the ability to jog, run – why dwell on it when I can focus on getting better? I have it so much better than so many others."
Erik and Daniel have been working on endurance, range of motion, and recovering his strength (Daniel lost 20 pounds in the hospital. "My goal is to gain weight!" he says with a grin). His hip and his leg have fully healed; his elbow still is in the process. Daniel, using a special harness to take weight off his legs, jogged for the first time Tuesday on the treadmill at CPT – one more step toward his goal.
"Yeah, there's pain, but there's pain in everything and this is temporary," Daniel stated with conviction. "There's always going to be bad times in everything, but the bad times make the good times better. I want to be the person people see the good in. It's what I strive to be. I'm not perfect, but no one is."
When asked what motivated him to jump in and try to save a total stranger, Daniel grew serious. "I believe it is what God wanted me to do. I was sitting in traffic that night, but then the thought occurred to me to go down Essen instead. I liked to think it was God's plan – I still think it was. He protected me and guided me all the way through."