Community
Central Family Shines
By
|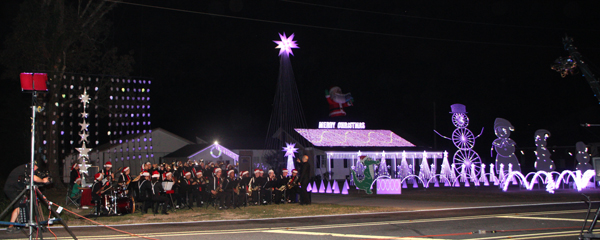 By Mia Freneaux
On a warm night in October a crowd of people gathered in front of the Hohensee family house – the "House on Sullivan Road" that every Christmas displays an extravaganza of lights and music. They were there to witness the filming of an episode of ABC's "The Great American Christmas Light Fight", and cheered lustily as the show's judge, Carter Oosterhouse, drove up on the blocked off road to meet the family. This was actually the fourth and last day of filming at the Hohensees, but through the magic of film editing all will appear chronologically when the show airs this Monday, December 12, at 7:00 pm. A $50,000 prize is awarded to the winners, so it was definitely a wonderful opportunity for Central's "brightest" entrepreneurs.
James and Shannon Hohensee met as students at Central High School. 20 plus years later, they're taking their partnership to a whole new level. James got involved in "extreme" light displays through DIYChristmas.com. Once bitten, he found better and better ways to create his displays, which led naturally to opening his own business – "Boscoyo Studio". Boscoyo offers over 150 products ranging from signs to trophies to, yes, Christmas displays!
James and Shannon designed 2 "Computer Numeric Control" routers to carve their intricate snowflakes and other display pieces. The CNC tables are connected to a computer which allows them to create the designs and program the routers. Next year they plan to add 3 tables. Their "hobby" has grown to a successful internet business that doesn't just include all 50 states, but reaches to England, Germany, Italy, Canada, Puerto Rico, and as far away as Australia ("The Australians are probably the craziest," James shares with a grin). Their children Madison, Peyton, and Olivia help out as well, going to trade shows and helping package and ship items.
While everyone can appreciate the effort it takes to put up 20 foot Christmas trees and snowmen, not many know what it takes to create the light show itself. Here's an interesting fact: for every MINUTE of song time, it takes 8 HOURS of sequencing the microchipped lights using the computer program James and Shannon developed. 60,000 lights grace their show, with 180,000 channels! THAT is a Labor of Love. And Love for their community is certainly what motivates James and Shannon to continue doing it.
"After the flood, there was a lot of talk about not doing a show this year," James shares. The Hohensees had taken on a foot of water in their business, and many members of their family flooded as well. "We lost 5 weeks of preparation time due to the flood. But so many asked us about it, and so many had lost so much, we felt we had to do it for our community." Their faithfulness was rewarded with recognition on the "Louisiana Christmas Lights Road Trip", an article in Baton Rouge Parents Magazine, and, of course, "The Great Christmas Light Fight."
When ABC called, there was a huge scramble to prepare everything for the filming. "We could only do the show because so many great folks came to help," states James. The Christmas Light Decorating Community, including Pierre and Nancy Rizan in Pride, Nick and Amber Johnson in Zachary, Jerry and Beth Szewc of Baton Rouge, and Mark and Crystal Valentine all the way from Arkansas, spent weeks helping James and Shannon "get the show off the ground". The result? An amazing display for the producers to film – until 3 am every night! An exhausting experience, but one they'll never forget.
Each year the Hohensees collect donations to help a local family in need. After the tragic police shootings in July, they created lit blue "ribbons" to sell at Sullivan Hardware, and raised $4100 for the First Responders Emergency Fund. Now, with so many in need, they decided to raise money with this year's light show to aid Tanglewood Elementary School's library so that many could benefit.
"When you're working on it and you are so tired, and you walk out and hear kids singing to the music, it just makes it all worth it" Shannon shares, "So many people have told us 'we're so glad you've done it, we've made it our family tradition.'" Olivia puts it best. When asked when Christmas happens at her house, she says with a grin, "All the time!"
Catch the Hohensee Family Christmas Lights at 12625 Sullivan Road and on Facebook, or get started yourself by finding all your display needs at BoscoyoStudio.com! The display will be up til January 8.