Community
The Spirit of Serving
By
|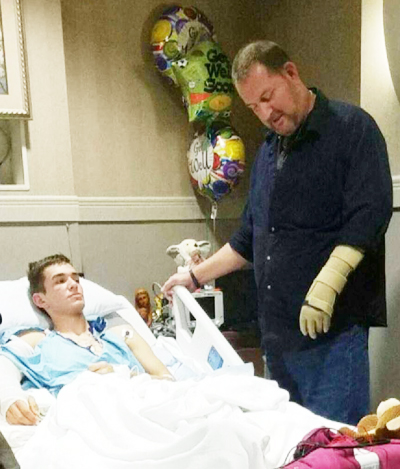 By Mia Freneaux
What makes a hero? Central High School senior Daniel Wesley has certainly earned that title by his selfless and courageous act on the night of November 27. Driving home from the mall, he saw a woman lying in the street. Having no idea how she got there, and that she had actually been shot, he stopped and grabbed his medic bag and ran to help her.
How does a 17 year old have that kind of presence of mind and confidence? Daniel, in a way, has been preparing for that role all his life. His father Robbie is a retired Paramedic and Supervisor, his mother Kathy worked for a medical team in Baker. "I remember the day of Daniel's First Communion," shared Kathy (the Wesleys are Catholic). "Just as we were leaving the house, the boys ran up crying 'Fire! Fire!' A house had caught fire a block over. We were the first to call it in. We ended up walking into the church smelling of smoke! Throughout their lifetimes, they have seen us stop for accidents or heart attacks or whenever someone needed assistance."
With that kind of family tradition, it is no wonder that Daniel decided to pursue a career in the medical field. Last year as a Junior he participated in an Explorer Scout program that focused on Emergency Medical Services. He enrolled in a course to become an Emergency Medical Responder, a step below an EMT. He took 70 hours of classes at night and on weekends to fulfill the course requirements, which included riding with ambulances learning CPR, recognizing the signs of heart attacks and diabetes, and a host of other information. This was, of course, in addition to his regular schooling.
The night of the 27th, Daniel's dedication to his profession kicked in. "One of the things he was trained in was to identify potentially dangerous situations. There was nothing to indicate there was any danger in this one, just a victim lying in the street," said Kathy. Things turned out very differently when the shooter came back to the scene and, simply because Daniel was helping the victim, shot him in the arm and leg and ran over him!
Daniel suffered a shattered arm and broken femur. After 2 surgeries, one of which saw the placing of a rod in his leg and the other the placing of 2 plates and 45 screws in his arm, last Friday he was moved to the Physical Therapy side of Our Lady of the Lake Hospital. Doctors anticipate he could be there anywhere from one week to 3 weeks. With Daniel's positive attitude, he will accomplish much on his road to recovery.
"He's always been a very composed person," Kathy stated with pride, "He is normally laid back. His philosophy is there's only so much you can control. He had planned to be an army medic, now that is questionable. But he has also considered careers in physical therapy and as an anesthesiologist. His attitude is 'I'll find something!'"
Last week Daniel received many surprise visits. Gov. John Bel Edwards came by, as did Chicago Cubs players and former LSU players Ryan Theriot and Michael Fontenot. Then Sheriff's Sgt. Bruce Simmons, another Central hero wounded in the attack on police on July 17, stopped by for a visit. Most recently the head Army recruiter for the state of Louisiana checked in on him. Very touchingly, the sister of the shooting victim, who ended up dying from her wounds, came by to thank him for his efforts to try and save her.
A Go Fund Me account has been set up to help with his medical expenses: https://www.gofundme.com/help-support-daniel-wesley. In addition, Central High School is selling bracelets for $2, you can pick them up in the office. Donations can also be sent directly to the family through P.O. Box 78303,Baton Rouge 70837.