Arts/Fun
Harry Connick, Jr. Lends a Hand to CHS Band
By
|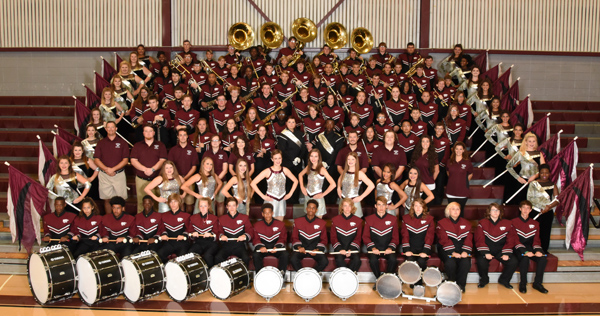 By Mia Freneaux; Photo courtesy of Eric Frank Photography
At a Professional Development Day taking place after the flood, band directors from all over affected areas were brainstorming about how they could raise students' spirits and replace lost instruments. Central High School Band Director James Henderson started to dream big. "I thought of what a huge influence Harry Connick, Jr. is, a fellow musician who really cares. I reached out on Facebook, through email, and by contacting Ellis Marsallis' Musicians Village Foundation," shared Mr. Henderson, "I think it was the last one that did the trick."
Driving on a Friday to the first football game against Mentorship Academy, he received a phone call from a number he didn't recognize. "I almost wrecked the car when I listened to the voice message," he said with a laugh, "It was from Harry's manager! She told me they wanted to do a program about the band in conjunction with his new show."
The following Friday at the game against Dutchtown, a film crew arrived and interviewed the students. Mr. Henderson also took them on a tour of flooded neighborhoods. "The following Monday I got a call telling me that a film crew was going to come to the school on Wednesday to film for the Harry Connick, Jr. Show to air the very next day. I was told Harry said, 'These are my people, this needs to be shown right now!' They didn't tell me what they would be doing, though."
Mr. Henderson and his students were astounded when the crew appeared with new instruments! Harry had arranged for Jupiter Band Instruments to provide $60,000 in new instruments. "it is an incredible gift – Harry is an amazing person!" Mr. Henderson enthused, "He is the Real Deal. Our kids really needed this."
Since then, many others have reached out to Central High School. Northwestern State University in Nachitoches donated uniforms, silks, sabers and rifles to the color guard. LSU gave each girl a rose and a shirt at their last game. Alumni have made donations. The Lafourche band director donated 26 uniforms in CHS colors, along with shoes and gloves.
"This is why I moved back to Louisiana," Mr. Henderson stated, "because of the type of people who live here. The 'Cajun Navy' has always been here, we just never needed them up til now."