Arts/Fun
Third Annual Code Red Chili Cook-off Results
By
|
Submitted by Lane RMC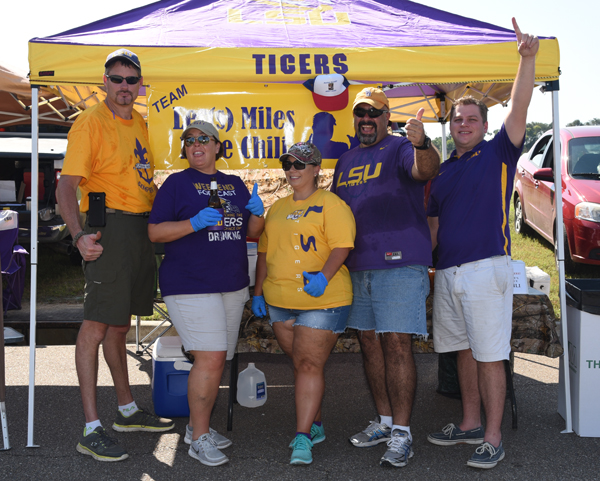 Presented by Americana, Level Homes, 100.7 The Tiger, The Advocate and LaneRMC Foundation, the 2016 Code Red Chili Cook-off held on Saturday, September 24th at the Pointe of Americana raised almost $25,000 for the Lane Regional Medical Center Foundation.
A total of 30 teams entered the competition, comprised of 21 entries in the adult category, 5 entries for youth, and 13 entries for salsa. In addition to tasting some world-class chili and salsa, activities included a craft beer tasting, cake walk, Kid's Zone and live music by The Gillis Silo, Bayou Boogie, Big River Express and Michele Willis.
All the team photos can be viewed at: https://www.facebook.com/LaneRMC/
List of winners: YOUTH DIVISION: The Lone Chili Pepper, Head Cook – Ashlyn Kling from Zachary; ADULT DIVISION: *Pictured Above* Les(s) Miles More Chili, Head Cook – Jeff Sabella from Central; PEOPLE's CHOICE AWARD: Level Homes Chili Cup Series @ Americana 500 Cup Series, Head Cook – Len Walker from Baton Rouge; SALSA: The Heat is On, Head Cook – Travis Hughes from Zachary; BEST DECORATED TENT: Gas Masters, Head Cook – Nate Beecham from Baton Rouge
Additional teams included: All In, head cook Gene Dominick; Breazealian Red Hot Chili Preppers, head cook Druit Gremillion; Business First Bank, head cook Ben Giaccone; Cast Iron Ministries, head cook Scott Plauche; Family-A-Fire, head cook Seth Tassin; J's Joint, head cook Jason Creighton; Lane's Best Chili Pot, head cook Mike Hopwood; Lil' Cajun Navy Chefs, head cook Benjamin Compton; Making Chili Great Again, head cook Bo Doiron; Mighty Fine Chili, head cook Gary Doiron; Misplaced Misfits, head cook Lacy Tranchina; Misplaced Misfits (2), head cook Paxton Tranchina; No Chumps, head cook Jana Ragsdale; Off in the Woods, head cook Jeff LeBlanc; Red Hot Charity Peppers, head cook Christy Turner; Regions Swamp Chili, head cook Mark Ducoing; Savvy's Slap Ya Mama Chili, head cook Samuel Serio; The Beachcombers, head cook Bob Meador; The Chili Hoppers, head cook Catherine Norris; The Chili Masters, head cook Dakota Pitcher; The Grimm Eaters, head cook George Ragsdale; The Salserias, head cook Amanda Lea; The Salserias (2), head cook Mary Ann Taylor; Too Hot to Handle, head cook Donny Deshotels; and Zachary Fire Department, head cook Michael Kimble.
The event was sponsored by Breazeale, Sachse & Wilson, Bank of Zachary, Charlet Funeral Home, Complete Collision Center, John Hendry Insurance, Landmark Bank, LeBlanc's Food Store, Newk's Eatery on Corporate, Regions Bank, Superior Ford of Zachary and Whitney Bank.