Announcements
In Memoriam: John Graff Armistead
By
|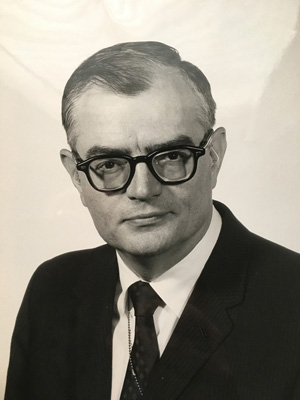 John Graff Armistead, of Central, Louisiana, passed away peacefully in his sleep on March 8, 2018 at the age of 94. John was born on January 13, 1924 in Roanoke, Virginia. He attended Thomas Jefferson High School in Roanoke, and after graduating he enrolled at Hampton Sydney College in Virginia. After his freshman year he enlisted in the U.S. Army in March of 1943 during World War II and served in the 32nd Fighter Squadron in the Army Air Corps in Panama until January of 1946.
Upon his honorable discharge, he completed his studies at Hampton Sydney, graduating cum laude with a degree in Physics. After graduation he worked for his father's business in Roanoke and then moved to Northern Virginia, where he worked as an engineer at Fort Belvoir for the U.S. Army Corps of Engineers. In 1953, he married the love of his life, Marina Perts, of Roanoke, Virginia. He had a career of more than 38 years with the Army Corps of Engineers, all at Fort Belvoir other than some time spent on special assignment in San Diego, California. When he retired as Chief of the Surveying Division of the Topographic Developments Laboratory in 1988, he received the Commander's Award for Civilian Service. His work for the Corps included helping to design mapping satellites and GPS programs for the United States government, for which he received the Meritorious Civilian Service medal in 1966 and the Army Research & Development Achievement Award in 1970.
John had an extremely curious, scientific mind and was an avid reader. His unwavering work ethic, deep Christian faith, and refusal to complain even in his final years touched many people. John is survived by his wife of 64 years, Marina Perts Armistead, daughter Maria Armistead Freneaux and husband Dave of Central, and daughter Elizabeth Armistead Andrews and husband Ron of Williamsburg, Virginia. He is also survived by his grandchildren, Elizabeth Armistead Fussell and husband John, Michelle Freneaux Chassaing and husband Amos, William Harrison Andrews, and Peter Clayton Andrews. Also by his sisters Anne Armistead of Roanoke and Theresa Armistead Bouldin of Lynchburg, Virginia. He was preceded in death by his parents George Clayton Armistead and Mary White Graff Armistead, brother George Clayton Armistead, Jr., and sister Mary Bland Armistead.
Visitation was held at St. Augustine's Episcopal Church, 12954 Joor Road in Central on Sunday, March 11, from 1:30 p.m. until a memorial service at 2:00 p.m. A reception followed. Interment will be at the family plot in Evergreen Cemetery in Roanoke, Virginia. In lieu of flowers, donations may be made to St. Augustine's Episcopal Church, Central, Louisiana, or to the charity of your choice.