School
CHS Championship Year
By
|
By Mia Freneaux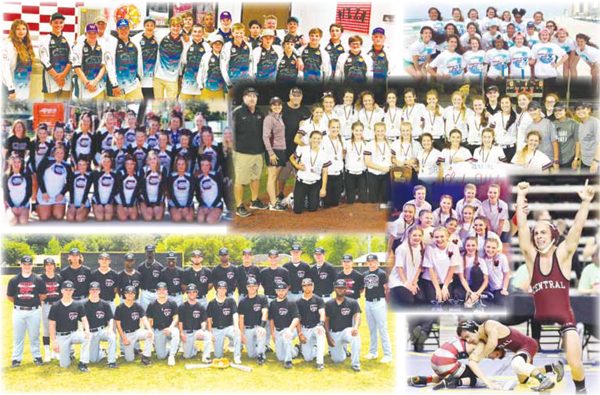 Sometimes, Hollywood can't compete with Reality. Such is the case with the unparalleled achievements of the students at Central High School. "It is arguably our best year from top to bottom in the history of Central High," affirmed Athletic Director and Coach Sid Edwards, "I'm so proud of all of these kids. They've done an amazing job with very little." With top honors in Baseball, Softball, Wrestling, Power Lifting, Fishing, Color Guard, Cheerleading and Dance, it is hard to argue with him!
Starting with Baseball, Coach Mike Forbes shared that probably 60% of his team were displaced by the flood. "I went to my players' homes after the flood – some were gutted to the ceiling. It shocked me to see how we were in a state of emergency and distress. But my guys were strong throughout it. While their own homes were almost destroyed, they were out helping neighbors gut their houses and rebuild. I think that's when I realized we had a special group." The team made it to the playoffs, then had to face West Monroe, the #1 team in the country, who had previously in the season beaten them 9-0. "I told the team it was just another ballgame. All we had to do was go out and be Central High School and see what happens," Coach Forbes remembered. Central beat West Monroe 4-2 for the State Championship. Coach Forbes was voted Coach of the Year by the LSWA on the strength of this season. "It's definitely a proud moment, " said Forbes, "when you put so much work and time away from family for a cause greater than yourself, it's gratifying. We have a unique responsibility to teach these kids how to be Men, how to be good husbands and fathers and members of their community. I'm happier for the boys to have had that success!"
Softball Coach Michelle Efferson revealed that her team started off in an even rockier place. "About 60% of my team flooded, and those that didn't had family members living with them," she shared, "It was March before they finally got back in their homes. To add to that 4 of our 6 coaches flooded, as well as our brand new locker room. But this is a special group of kids – they pulled it together!" And in a really grand way – after losing 21-1 to Alexandria and gotten 10-run ruled by Ouachita in the regular season, Central, in true Hollywood-movie form, blasted back in spite of all the hardships to beat Alexandria 8-5 in the semifinals and Ouachita 3-1 in the Championship game. Coach Efferson was named Softball Coach of the Year by the LSWA as a result of her dedication and her team's hard work. "It still doesn't seem real to me," she revealed, "We only had 2 choices when that flood hit: it would either make us or destroy us. It's amazing what these kids did in spite of all they lost and had to face. I have great kids, great parents, and an incredible staff, and it made my job an easy one. It was a storybook season and the chance of a lifetime."
Fishing Team Coach Tom Ensminger started the team 2 years ago. He is immensely proud of the accomplishments of his kids. "After the flood, many of our guys had their homes flood, but they got out in the community and helped folks tear out their houses in spite of that," he remembered. "Many of them lost their boats and all of their equipment. But CCA stepped in and helped to replace some of that, and the Central community has been a great support." The fishing team competed in the Louisiana High School Bass Fishing Tournament and placed first in the "School with the Most Weight" Event. Then Wyatt Ensminger and Dawson Andrews won the State Championship and Micah Hubbard and Logan Guy placed 3rd. As a result of their efforts, the boys will be travelling to Paris, Tennessee to compete in the Bass Masters High School National Tournament the weekend of June 22-24. Best of luck, guys!
CHS Cheerleader sponsor Sharon Ball had this to say about the accomplishments of her squad: "Over 50% of our team flooded. Some of our girls suffered personal tragedy too on top of the flood. But they came back – competitive as always!" Sharon shared how the team, completely on their own, made bag lunches and took them door to door to help out in flooded neighborhoods. The cheerleaders went to their Regional Championship in November and brought home First Place in both Large Varsity Non-Tumble and Game Day. Then in December they went to the Dixie Championship and placed first there as well! This qualified them to go to Nationals, held at the ESPN complex in Orlando, Florida. In a field of 80 teams from all around the country, the girls placed in the Top 10. Sharon shared, "Our program keeps growing and we keep getting stronger, but it's all on the kids. I am really proud – I also want to emphasize that they also held a 3.4 average GPA! They are good students on top of that! Every year, I sign back up to be their sponsor because these kids are truly amazing."
The CHS Color Guard also suffered setbacks due to the flood, and that right before their season began. "When school began, no one was in their homes," said "Flag Mom" Renee Anselmo. "We had 16 out of 20 team members flood, and most of them lost their uniforms and equipment too. On top of that, mold was found in the storage room at the high school where they kept the flags and other equipment, and they lost all that too. It was a real struggle to replace all of that. At one game the girls performed with pillow cases attached to their poles!" But they were fortunate – Northwestern University stepped in and helped with uniforms, LSU pitched in poles, and LA Stars replaced the performance t-shirts. A very special gift of flags was given by Alvarez and Pathway High Schools in Texas. Central responded to this generosity by stepping up at both the Northwestern and McNeese competitions and winning Superiors – the highest level. Then they attended the Winter Guard Regional competition in New Orleans and placed First. In addition, they received "Best Choreography" and "Best Show". In individual competition, Central swept the awards. Because of their achievements, the girls were invited to the Panama City Beach Florida Music Festival Invitational. There they received Superior scores again and brought home "Best In Class". Renee stated with pride, "With all the set-backs, they came back strong!"
Kittens sponsor Brandie Gilchrist shared that over half of the team flooded last August. "Some of them even had to relocate, but they never let that slow them down," she said. In spite of all the hardship, the girls decided they would still prepare to compete with the hopes of making it to Nationals in Disney World. They learned 3 different routines for competition, while having to still study and help get their homes back in shape. The result was Central placed 3rd in "Pom", 5th in "Jazz" and "Hip Hop" and 5th overall in State Competition. They worked hard for several months to polish their routines, then they went to Nationals in Disney World as they had dreamed. All of their efforts paid off when they brought home a National Championship in "Pom". "The girls worked SO very hard this year!" stated Coach Gilchrist with pride.
The Wrestling Team put in quite a showing too, as Coach Herbert Juneau described. "I've been involved in wrestling for 30 years, but this is one special group of kids. I really applaud my Seniors- I credit them with holding the team together after having 3 coaches in 3 years!" Austin Gouedy, in addition to winning an unprecedented 3rd State Championship, was also named Most Outstanding Wrestler on both Metro and State levels. Captain Tyler Fontenot won 2nd in State and was awarded the Kinsley Award. Nick Jones won 3rd in State and only lost to an opponent ranked 15th in the country. Matthew Boudreau won 2nd in his tournament and was "another great leader", Senior Daniel Wesley's season was taken away when he was wounded helping a gunshot victim, but "he was our biggest motivator and cheerleader," said Coach Juneau. The entire team placed 8th in state- the 2nd highest in Central school history. The coach himself was awarded Metro Coach of the Year in all divisions by his fellow coaches. "I'm really humbled by it- it's pretty special! It's been a great season with a great group of kids!"
It says a lot about a community that can raise kids like this – kids who take adversity on as a challenge and become Victors instead of Victims. "I've coached 33 years in other places, but one thing I've noticed since I've been at Central, and that's the physical and mental toughness in these kids. We call it "Central Fight," and I don't know if it can even be taught," Coach Sid mused. "It's ingrained in them. It's like when the football team had to play Live Oak in the final week of the season this year. They beat us 41-2! We had to wait til the following Sunday to see who we'd be playing in the play-off. Of course it was Live Oak, and we came back and beat them 17-0! Or our volleyball team who were District Champions. Their coach, Michelle LeBoeuf, had to be rescued by boat from her home by Coach D.D., and she ended up winning District Coach of the Year. Then Reagan Willis became State Champ in Power Lifting and is Number One in the country after her house flooded. Reagan added a Softball Championship to her banner year! All our kids rose to the top in glorious fashion, I couldn't be prouder of them."
The list of accomplishments continues with the CHS Girls' Soccer Team sharing the district title, a feat that, before last year, had not been accomplished in the team's history. Both the football and girls' basketball teams made it to the playoffs. The Central High Band is looking forward to next year, when they will be performing by invitation at Carnegie Hall in New York City. Central High even had one athlete, Burnell Williams, place sixth in both the 100 meter dash and the 200 meter dash at the state track meet. Congratulations to all of our student athletes and performers, outstanding coaches and staff, and the supportive parents and community members who cheered these athletes and performers to victory.