School
Central Middle School Service Club Helps Cat Haven
By
|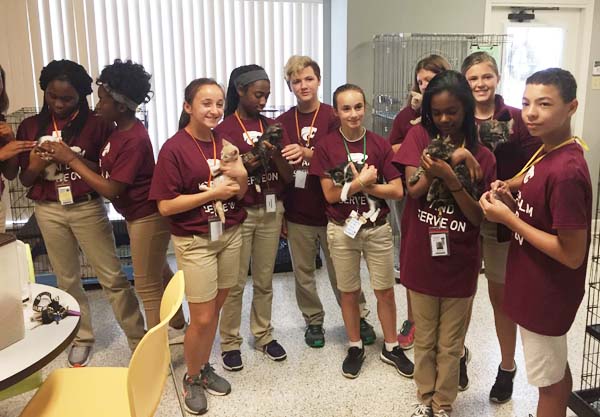 By Anna Cattar, CMS Service Club President
Central Middle School Service Club's last field trip was one of great help and interest. On April 28, the Service Club began a busy day by visiting Cat Haven, a cat shelter in Baton Rouge, followed by a visit to the LSU School of Veterinary Medicine.
The Service Club visited Cat Haven and spent two hours providing hands on assistance to the shelter but that was the least of their help. Over the last two months, the Service Club sold candy from a candy cart at CMS raising money to donate to Cat Haven as a surprise to help them with their new facilities. On April 28, the Service Club put a $965 check into the hands of Cat Haven's shelter manager Ms. Sam Hanks.
Cat Haven is a no-kill cat shelter located on N. Harrells Ferry Rd in Baton Rouge. According to Cat Haven's shelter manager, Ms. Hanks, 150 cats can be sheltered at any given time. While the shelter does try to keep the number of cats in the shelter on the lower end of the scale, it does not stop them from accomplishing outstanding adoption numbers. In an interview conducted by Service Club President, Anna Cattar, Ms. Hanks states, "About 1400 [cats were adopted out last year] that was our record breaker." Ms. Hanks explains that the shelter projects to maintain their high number of adoptions and possibly increase it.
Cat Haven is active from every angle in supporting cats by offering help for owners with their personal cats, spaying and neutering all cats that go through their shelter, and educating others through their website on how to help stray cats. When asked how CMS students and teachers can help with Cat Haven's cause, Ms. Hanks says, "Well, we are always looking for volunteers, you go on our website, cathaven.org, there is a button that says volunteer, it will take you to a volunteer application… you have to be 18 to volunteer on your own, but [minors] you are welcome to volunteer with a parent…" She adds that, "We're always here, we're always looking for volunteers, we're always here for resources, and we help however we can. Our goal is to help as many cats as we can."
Cat Haven is an amazing shelter to work with and clearly offers a great environment for volunteers and cats alike. Our Service Club students enjoyed the chance to work with them and look forward to all future cooperations!
To learn more about Cat Haven or how you can help, please check out https://cathaven.org/.