Editorial/Op
What Week Is This?
By
|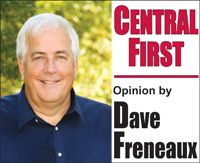 Elected officials often highlight things they feel are important by declaring what special week this is, and Central is no exception. At Tuesday's Council meeting Mayor Shelton and the City Council joined a yearly national emphasis by proclaiming this as "Economic Development Week" in Central.
I'm on board for Economic Development. In fact, we have all witnessed a boom in Economic Development in Central over the last 25 years. Think of what was NOT here 25 years ago: McDonalds, two Walmarts, the "new" Winn Dixie, the entire shopping area at Sullivan and Wax, Sammy's and the strip mall next door, Baton Rouge Community College, and the Central Thruway.
That same 25 years has seen a housing boom as well. I would run out of room in this column if I listed all of the new neighborhoods, and there are roughly 1,000 MORE residences approved and not yet built. The way I see it, anyone who says Central is not growing fast enough has either forgotten what Central looked like in 1990 or is in the real estate development business.
What troubled me most at Tuesday's Council meeting was the vote to spend $70,000 to "update" the Master Plan… the plan that took years and hundreds of thousands of dollars to develop… and was implemented less that three years ago. I will allow for the possibility that the purpose of the "update" is not to cause Central to grow faster than our schools and roads can handle, but I'm not optimistic in the face of Mayor Shelton's 2016 statement that "We will MAKE this city grow!"
If there is a need to proclaim special weeks, I would prefer we prioritize and solve existing problems before we compound them. Here are a few very real and positive suggestions:
Traffic Relief Week – When we look for long-term solutions to worsening morning, noon, and afternoon traffic problems.
Road Improvement Week – When we recognize that the lack of current use of designated funds to maintain our streets will become a crisis down the road, (pun intended).
School Facilities Week – When we acknowledge that many Central children are taught in temporary buildings because Central's schools are over capacity and no plan is in place to manage enrollment growth and construct new school buildings.
Drainage Improvement Week – OK, that issue is already the talk of the town so it doesn't need a special week, but let's get a plan for that problem before we actively accelerate growth and development.
The only thing I want more than for Central to be attractive to others, is for Central to remain attractive to the people who already live here. We all have things we would like to see improved, and Central offers many positives to enjoy while we seek solutions to problems. I am all for Economic Development, as long as it's done wisely, with priority given to proper planning and preserving Central's unique way of life. That's the way I see it.