Sports
State Softball Champs
By
|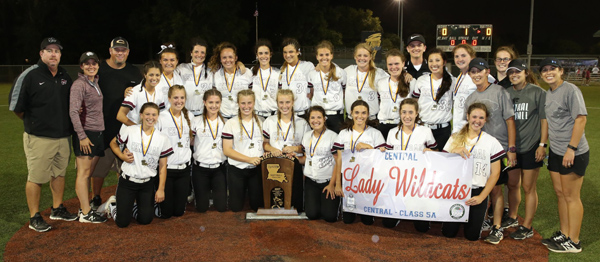 Top Photo Submitted by Coach Efferson
The Lady Wildcat Softball Team took home the state title for the first time in over twenty years. Congratulations to the following players, under Head Coach Michelle Efferson and Assistant Coaches David Dykes, Len Devall, Amy Knecht Rawlins, Sarah Hunt, and Meghan Saia: Alyssa Habig, Mallory Marcotte, Krystal Stubbs, Bailie Johnson, Maci Werchan, Aly Pourciau, Hannah Cowart, Heidi Zumo, Heather Zumo, Kylie Chauvin, Kamryn Jordan, Nicki Bourgeois, Taliyah Joseph, Savannah Hupp, Emily Danehower, Bobbie Amond, Brooklyn Wascom, Ashlyn Lord, Destinee White, and Raegan Willis.
Central started the playoffs seeded #4. They defeated #29 Natchitoches Central (score 6 to 4), #13 Airline (8 to 0), #5 Sam Houston (6 to 1), #1 Alexandria (8 to 5), and #2 Ouachita Parish (3 to 1) to win state. The team was recognized this week at the State Capitol for a presentation in front of the State Senate and House of Representatives and at the Central School Board meeting. Congratulations, Wildcats!