Community
Celebrate Central: Lemonade Day Aids CPS
By
|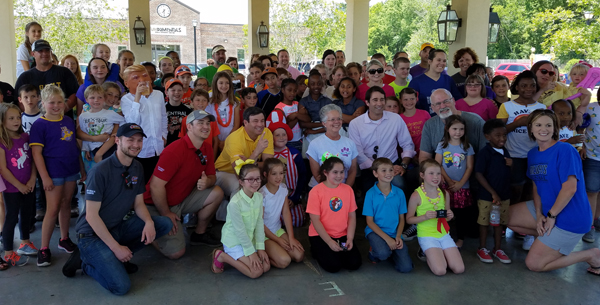 Pictured: Todd Graves, owner of Raising Cane's, made a surprise visit at the end of Lemonade Day and matched the money raised by students for CP! Garrett Graves also stopped by! They're related- who knew?
By Mia Freneaux
Last Saturday students from Central Intermediate School learned about Entrepreneurship and Giving by setting up lemonade stands in Central Square. Lemonade Day is a statewide effort led by entrepreneurs John Georges, CEO of Georges Enterprises, and Todd Graves, founder of Raising Cane's Chicken Fingers. The effort "empowers youth to take ownership of their lives and become productive members of society."
Central Intermediate School principal Rhonda Taylor seeks each year a way for her students to participate in some community-assisting fundraising event. This year, the August flood made that vision a bit more difficult, with Tanglewood Elementary inhabiting the same building for much of the year. As Lemonade Day approached, Rhonda looked for a recipient of her students'efforts. It wasn't hard to find. " I decided we could help someone right down the street from us- Central Private School,"Rhonda explained.
Her students responded marvelously. The creativity and energy exhibited Saturday was inspirational. Students used music, loudspeakers, tempting home-baked goodies, secret lemonade recipes, and even costumes to attract potential customers. The stands themselves were colorful and personalized in a myriad of ways. Two students, when complemented on their stand, shared that they had taken their FEMA "shelter-at-home" sink and made that into a lemonade stand. Talk about embodying the process!
Awards were given for categories such as Best Tasting, Best Decorations, and Best Salesmanship. At the end of the effort, who should stop by but Raising Cane's owner Todd Graves, accompanied by Representative Garrett Graves! According to Raising Cane's Manager Alan Phillips, upon hearing that the children had raised $4500.00, Todd donated $5500.00 to raise the total to $10,000. The check was presented to Central Private School president Brennan Easley.
According to Rhonda Taylor, many students set up their lemonade stands in their own subdivisions, and brought in the funds they raised on Monday. With jambalaya donated by several local businesses, Lemonade Day truly was a community effort. It was heartwarming to see the alacrity with which students worked to help another local school. Many thanks to those students, their supportive parents, teachers, and businesses who made Lemonade Day a great success. "It was just such a sweet day," Rhonda shared with a smile.