Editorial/Op
News Flash… We're the Press!
By
|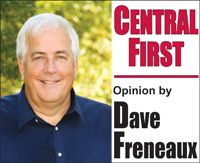 After the outbursts by Mayor Shelton and Council Members at the April 14th called City Council meeting, it is quite clear that some of Central's elected officials do not want the press asking questions and keeping the public informed through articles and editorials. News Flash… We're the Press!
Quoting from a Journalism Code of Ethics, "holding those with power accountable" is the job of the press, and the press is charged with reporting on the actions of government, ensuring that "the public's business is conducted in the open, and that public records are open to all."
Ambushing a reporter from the protected confines of a public meeting with no rebuttal allowed, chastising him for asking questions, will not stop the reasonable inquiries; nor will staging a press event for Baton Rouge television stations in a failed attempt at intimidation keep this Central newspaper from printing the news.
Refusing to respond to reasonable inquiries does not silence the questions, it simply forces the press to seek the information through public records requests. Then, failing to provide public records in accordance with State Law may delay news, but it will not suppress it.
Some elected officials in Central cry out "It's Political" as a diversion each time a news report sheds less than favorable light on the actions, or inactions, of the government. No, it's not "Political", it's doing our job. News Flash… Central Speaks is the Press!