Editorial/Op
Do the Right Thing
By
|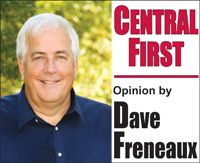 Having the right to do something does not make it the right thing to do. Next Tuesday, Central's City Council will vote on whether to rezone property located in Conservation and Restricted Greenspace areas from Rural/Agricultural to Residential to build a 153 house subdivision across Wax Road from Central High School. The City Council has the legal right to rezone the property, and Tuesday night the City Council will tell Central whether they believe that is the right thing to do.
Central has a Master Plan created by more than a dozen experts, with extensive public input, at a cost of hundreds of thousands of dollars. The rezoning of this property is in direct contradiction to the Master Plan. The Council is not legally bound to follow Central's Master Plan, but I believe the Master Plan represents the deal we all made in 2014 to shape the future of this city. The City Council will state clearly on Tuesday whether they believe sticking to the Master Plan is the right thing to do.
Central is emerging from flooding that is certainly the most devastating disaster in the history of this community. There has been no infrastructure analysis to determine how flooding might be lessened in the future, and Central's standards for residential and commercial development have not been reviewed and updated to consider changes warranted by the flood.
The City Council has the right to continue to approve more development in flood-prone areas. But, until there is enough data to assure the people of Central that such development absolutely will not worsen future flooding, is rezoning property to allow more developments the right thing to do? The Council will answer that question for themselves at next week's Council meeting.
What is the hurry? I believe there are over 1,000 lots already approved for building new homes in Central, and in a city of 10,000 homes, that is 10% in growth already approved. Why not take the time to truly understand what can be done to limit future flooding, remember that we all made a deal in the Master Plan to limit building in flood-prone areas, and not be in such a hurry to build?
The City Council meets at 6PM Tuesday, February 14th (Valentine's Day) in the Central High Auditorium, and every citizen has the right to speak and ask the Council to do the right thing, whatever you believe that is. At that meeting the City Council has the right to continue to approve new developments before taking steps to minimize future flooding, and their vote will make it clear what they believe is the right thing to do.