Sports
Remembering Central High's 1966 State Championship Football Season: Quarterback Marshall Bernard
By
|
From Elva Jo Crawford; Interview Submitted by Linda Stilley Aaron
As a junior classman quarterback, Marshall Bernard was happy to have the experience of guiding his team to the 1966 state championship victory in Shreveport. When friends congratulated him on making the winning touchdown, he was quick to point out that it was a "team effort" that got the win. Marshall remembered that, as for many of the team members, this was his first ever airplane trip. He fondly remembers Coach O.R. Smith as the best coach he ever had and that he was a great man. Marshall went on to play football at Southeastern for a while after high school graduation, then worked at Slaughter Logging as a truck driver. He is retired, now, and enjoys horseback riding, fishing, hunting, or really any outdoor sport. He is also a successful beekeeper, selling the honey he collects. Coming into that huge stadium back in December of 1966 and seeing all of the fans that had traveled from Baton Rouge had to have given this team from a small country school the adrenaline boost they needed to…….as Marshall says……get 'er done.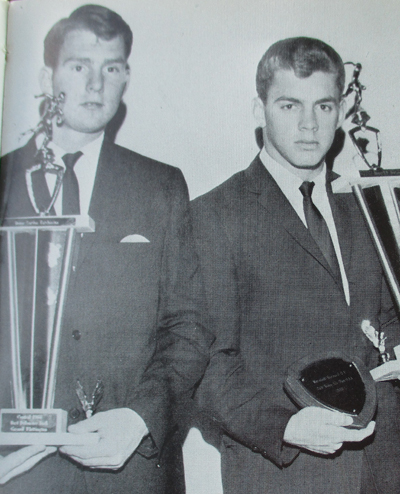 Pictured: Gaynell Whittington and Marshall Bernard, both junior classmen, at the 1966 Central High Football Awards Banquet. Gaynell received the "Best Defensive Back" Award and Marshall received the "Best Offensive Back" Award. Marshall was also selected for the "All-District" team that year. As seniors the next year playing for Central, both young men were awarded first team "All-District". Marshall was also awarded the over-all "Most Valuable Player" of the Central High School team as well as "Most Valuable Player" of the entire all-star district team. Gaynell was awarded "Most Valuable Lineman" of the entire all-star district team.