Community
Sgt. Simmons Update
By
|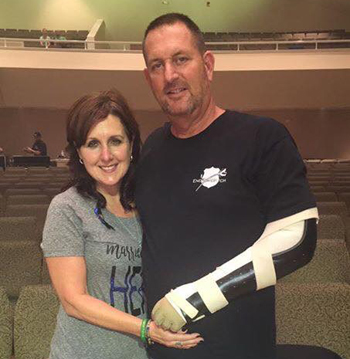 Sgt. Bruce Simmons continues to progress on the long road to healing after being wounded in the horrific ambush on law enforcement officers on July 17. He underwent another surgery on September 14 which took bone from his pelvis and femur to replace the shattered bone in his arm. He continues to receive physical therapy to help him regain movement in his wrist and fingers. He hopes to return to light duty work in the next six months.
Sgt. Simmons' house took four and a half feet of water on August 13. The family lost almost everything. Last Saturday, the Blue Knights Poker Run raised money for the family, as did the "Batting for the Blue" 2 day softball tournament. The girls also sold jambalaya and t-shirts at the event.
Many people have contributed to helping the Simmons get back in their house. The Plumbing Warehouse, Peel Homes LLC, Linxweiler Electric, Relief Windows, Grabince Cabinetry, the St. George Fire Department, Copperhead Concrete Designs, Linda & Bruce Janet, Pastor Val Taylor, Kellie Dufour, Lindsay Ekizian, Gary and Sally Henson, and Cheryl Kiker have all sent financial and material support. Kiran Chawla of WAFB has been a huge help. Sgt. Simmons' wife Pam spoke from the heart when she said, "We thank everyone involved for these benefits and thank the community for their continued prayers and support." Sgt. Simmons asks everyone to continue to pray for Dep. Nick Tullier, still recovering from his injuries at this time.