Business
New Business Spotlight: The Quilt Corner
By
|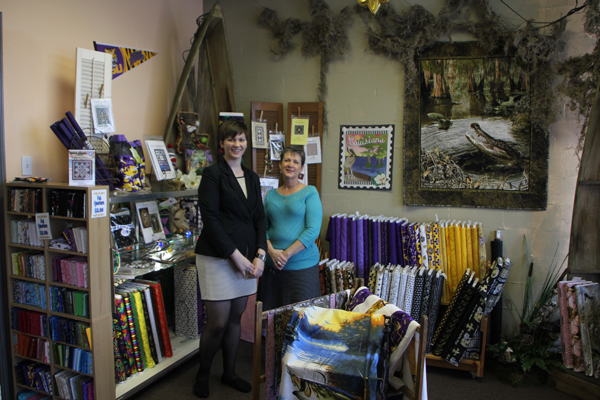 By Mia Freneaux
When you walk into The Quilt Corner for the first time, your eyes are delighted by a virtual rainbow of colorful fabrics. Owner Margaret Chair has literally stuffed her new location at the Four Corners Shopping Center with bolt after bolt of 100% "quilter's" cotton, known for its tight weave and high quality. An AVID quilter herself, Margaret knows the demands quilters have and searches for only top of the line material, because "If you are investing the time to create a beautiful quilt, you want it to last!" From selections with themes of Mardi Gras, LSU, camouflage, and patriotic prints, to patterns taken from nature in the "Woodland Trees" line and derived from Edwardian England in the "Downton Abbey" line, The Quilt Corner has it all. Check out their adorable baby patterns, colorful batiks , and a myriad of other "blender" selections in the Traditional style. "Our clients bring in their quilt patterns looking for fabrics. We'll spend as long as they need helping them select the perfect colors and patterns – it's SO exciting!" Margaret enthuses.
Margaret, a lifelong seamstress and crafter, has had long experience in quilting. She began helping the original owner at The Quilt Corner, then eventually bought it, running it as an online service until she essentially ran out of room for her stock! Her talented team of Assistant Manager Jordan, Sandra, Claudia, Susan, Joni, and Darlene are all quilters, and use their skilled knowledge cheerfully to help clients in every level of ability. They offer Longarm Services with a digital machine to perfectly quilt and bind your finished product, along with workshops for all skill levels, demonstrations, cutting assistance, and fun projects like "Block of the Month," which helps clients easily achieve sewing an entire quilt step by step. The lovely "Farmer's Market" quilt on display in their front room was a "Block of the Month" project. Commissions are gladly accepted as well.
In addition to fabric, The Quilt Corner also offers accessories like batting scissors, rotary cutters, templates, pressing supplies, batting, patterns, "fat quarters", "jelly rolls", "charms" and anything else a quilter may need, even quilting themed jewelry! Seamstresses take note! The 100% cotton fabric is also ideal for dress making projects!
Wednesday afternoons is "Hump Day" at the Quilt Corner. Bring in any project you're having difficulty with, and the caring staff will help you to "Get over the Hump!" This commitment to service and passion for the craft are what distinguishes The Quilt Corner. "We love all our customers," Margaret shares with a smile, "At the end of the day, no matter how busy we've been, we just laugh and are so thankful. We love what we do – it's such a fun, rewarding business!"
The Quilt Corner, Monday – Friday 10-5, Saturday 10-2, 13579 Hooper Rd, 315-7285. Check out their online catalogue at www.quiltcorneronline.com.