Arts/Fun
Alexis David Wins 2013 Holiday Bowl MVP Award
By
|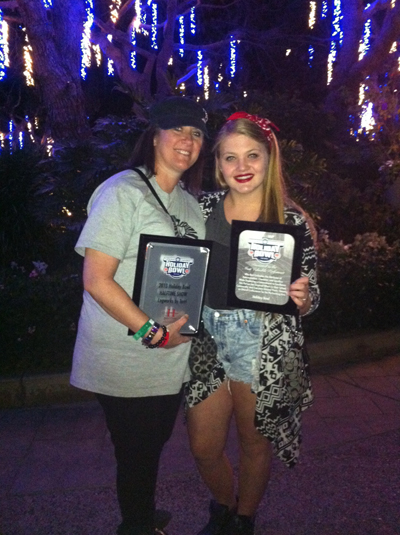 Photo: Terri Peterson and Alexis David
Submitted by Terri Peterson
Alexis David is an extraordinary 15 year old. She has danced at the Legworks By Terri Studio for 13 years. She has been an assistant at the studio for the last four years and her hard work and dedication have had a tremendous effect on many of the students. Her infectious sense of humor and charismatic personality have been an inspiration to dancers young and old. Some of Alexis' accomplishments include participation in seven previous bowl games; Dancing in Disney World, Disney Cruise and Disney Land; performances for the New Orleans Hornets Prime Time Series; plus numerous community functions and dance conventions such as The Pulse, Nuvo, Jump, The Streetz, and Monsters of Hip Hop where she was awarded multiple scholarships. Her enthusiasm and love of dance is evident in every aspect of her dancing.
Two years ago Alexis' father was killed in an industrial accident leaving the then 13 year old the task of helping her mother with her 2 year old sister and 7 year old brother. Two weeks later she still traveled with her studio to participate in the BCS Bowl and performed well. She continued to assist at the studio and also maintained a 4.0 average in school. Then in September of 2013 Alexis' mother was involved in an ATV accident where she sustained a severe Traumatic Brain Injury and as of this date, she is still in a coma in an Acute TBI Rehab Program. Once again this 15 year old has had to step up and assume some very adult responsibilities and maintain a strong support system for her younger siblings now 5 and 9 years old. Alexis also continues to teach at the studio because of her dedication to her students and her love of dance. Her perseverance through all of the tragedy in her young life is astounding! Once you have had the chance to meet her and watch her perform you will never forget this amazing young girl.
Recently, Alexis was nominated for the 2013 Holiday Bowl MVP award by her dance teacher and owner of Legworks by Terri, Terri Peterson. She won the award, beating out hundreds of dancers and bands for it.