Announcements
In Memoriam: John Theriot
By
|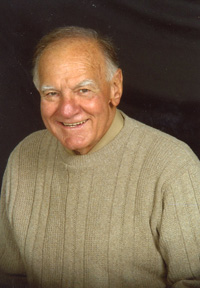 John Gerald "J.G." Theriot, Sr. passed away at his home on December 29, 2013 at the age of 84. He was a loving, kind and generous husband, father and friend and was the sixth of eight children born to Horace, Sr. and Daisy M. Theriot.
He was a man of strong faith and loved his Lord Jesus and measured his earthly wealth not by the balance in the checkbook, but by the many wonderful relationships he enjoyed with a loving family and loyal friends.
He was, for many years, an avid golfer, gardener and loved to travel. He graduated from Central High School where he excelled in sports and was a member of Central's first football team. He was a paratrooper in the 508 division of the 82nd airborne and was a retiree of U.S. Steel Corporation.
He is survived by his wife of 62 years, June Eisworth Theriot, his sons and their spouses, John Jr. and his wife Gwen and William Justice "Bill" and his wife Lynn, grandchildren, Tasha Buchler and husband Kenneth and their children, Madison Claire and Brandon and Beau Theriot and his son John, his sisters, Elfleda Nevils, Norma Ory, Neva Von Monarch and Bernadette Mills and husband Bill, brothers-in-law, George Eisworth and wife Beryl and Jim Fitch, sisters-in-law, Mary Morris and husband Ted and Norma June Theriot. He is also survived by many wonderful nieces and nephews who were very special to him.
In addition to his mother and father, he was predeceased by his father-in-law, George W. Eisworth "His Hero" and mother-in-law, Minette, sister-in-law, Cynthia Eisworth Fitch, sisters, June Phelps and Shirley Browning, his brother, Horace Jr. and brothers-in-law, Dan Rice, Milton "Chick" Nevils, John Von Monarch and Eugene Ory.
Visitation will be held at Seale Funeral Home in Central on Thursday, January 2, 2014 from 5:00 PM -8:00 PM. Visiting will resume on Friday, January 3, 2014 at Zoar Baptist Church in Central from 10:00 AM until religious services at 12:00 PM conducted by Dr. Kevin Hand. Burial will be in the church cemetery.
In lieu of flowers, memorial donations may be made to Zoar Baptist Church Organ Fund, 11848 Hooper Road, Baton Rouge, LA 70818 or to a charity of your choice. Please visit our online registry book at www.sealefuneral.com