Health
Healthy Recipe: Banana Oatmeal Pancakes
By
|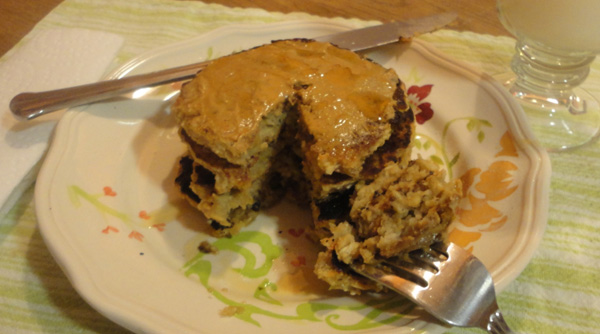 By Rachel Firmin
In my opinion, a nutritious breakfast sets a great mood for the day. It not only starts up your metabolism, but it also has the ability to keep you focused throughout the day and less likely to overeat in the evening. These pancakes have the nutrition equivalence of a bowl of oatmeal, but a completely different texture and taste.
Ingredients:
½ cup Old Fashioned or Regular Oats
1 medium, ripe banana
1 cup Skim Milk
1 Tbsp Natural Nut Butter
1 Tbsp Syrup
(I prefer Agave Nectar or Cane Syrup)
Preparation:
Remove 1/8 cup oats and set aside in small mixing bowl. In food processor, process remaining oats until a flour consistency forms. Add to bowl with unprocessed oats. Place ¼ cup milk and ripe banana in processor and process until smooth. Add to small mixing bowl and mix well. Let sit 1-2 minutes. Heat skillet on medium heat and spray with nonstick cooking spray, or use nonstick skillet. Once warmed, place small amount of batter on skillet and smooth out. Cook 2-3 minutes, flip and cook 2-3 remaining minutes until golden and cooked through. Cover pancakes with peanut butter, stack and drizzle on 1 Tbsp syrup!
Because these are made of oats and naturally sweetened with banana, they are a great source of soluble fiber, natural sugars and potassium. The nut butter also adds a dose of healthy fat and protein! Enjoy!
*Disclaimer: I am not a licensed physician or Registered Dietitian. The content of these recipes are not to be construed as medical advice or nutritional counseling. Please consult a Registered Dietitian or Doctor for further questions or before making any serious changes in your diet.