Business
Drag Racer and Pit Crew Barbecue Owner Harold Laird Calls Central Home
By
|
High performance and good barbeque is the reason Central has bragging rights to professional drag racer Harold Laird.
Photo and Article By Central Speaks Correspondent Holley Lipscomb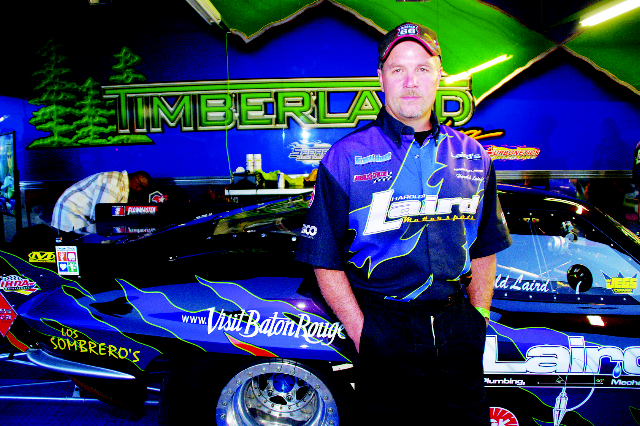 Harold Laird, driver of a killer 1963 Corvette powered by methanol and alcohol fuel for a Brad Anderson engineering all aluminum 526 cubic inch Hemi motor with over 3,000 horsepower is the 7th highest ranked drag racer in the world, and he lives right here in the heart of Central.
Laird, winner of the 2007 U.S. Nationals at Indianapolis races with the big boys, such as IHRA Pro Mod World Champion Kenny Lang, Pro-Extreme Josh Hernandez, and World Champion Pro Mod Jay Payne. This is big and Central has the rights to claim the man who tames one of the fastest cars in the world.
Competition is Lairds passion and winning is his goal. Bringing his "A" game to Indy, Laird qualified 13th with a 6.195 time and a speed of 230.69 mph in a quarter mile. He delivered a strong performance throughout eliminations, defeating World Champion Jay Payne in the first round. He claimed his first big victory at Indy and he's not finished yet.
Laird started racing at an early age at State Capitol Raceway. From the Electronic Bracket (ET) to Pro Mod, he's seen it all. Laird travels from race to race on weekends, bringing his wife Stacy and their four children along for the ride. Stacy keeps the fans updated on a website, detailing every inch the car makes on the track.
After 20 years, professional drag racing has finally made its way back to Louisiana, and did so with huge results. Laird packed the stands at the State Capitol Raceway in Erwinville, La for the "Night of Fire" Mardi Gras Nationals last year, which was one of the biggest shows in IHRA history.
Pro Mod driver Harold Laird has over 27 years experience in drag racing. He started out as a mechanic, working on old model Camaros'. "It was all good," said Laird, but he wasn't satisfied until he was the one driving down the track at over 200 mph. His passion for engine building and modifying cars is what brought Laird to the drivers' seat of his very own 1963 Corvette.
Laird raced in the NHRA Gator Nationals in Gainsville, Florida last year, clocking a 6.374 in a quarter mile and traveling over 222 mph. He qualified in the third position on his first hit, and went on to win the first round. When he pulled the laundry (parachute), his ride was not so comforting. Laird said "when you have a lot of horsepower to tame in a quarter mile track, anything can happen," and it did. Laird claimed the win, but the car made a move out of the groove of the track at approximately 1,000 ft. sideways. The car flipped over and traveled on the hood at over 200 mph. The crowd went wild and so did his wife. Worried sick over her husband, Stacy and the pit crew raced to the scene to assist the paramedics. The NHRA officials weren't too pleased with the way his wife approached Laird, however that was the furthest from her mind if she had broken any NHRA rules. She was more concerned of her husbands' safety than anything. Laird walked away with a few cuts and scratches however, the car was in critical condition.
Laird's plans are to continue racing with the big boys and yet at the same time, run a restaurant on Hooper Road in Central, called the Pitt Crew Barbeque. The Pitt Crew Barbeque is a unique place where you can get the latest drag racing news while eating the best barbeque in town. We asked Laird what made him open a restaurant and why barbeque. His reply was, "Everywhere our team travels all over the United States, they are constantly looking for a place to eat that reminds them of Louisiana food". He said he wanted to open up a barbeque restaurant because that is what they ate mostly while traveling with the racing circuit. Another Pitt Crew Barbeque will be launched very soon at another location, and CentralSpeaks.com will let you in on the deal when plans are finalized.
NHRA and IHRA National Contender Harold Laird has had many sponsors such as Visit Baton Rouge Tourism, Auto Zone, Mickey Thompson Tire, NGK, Days Inn, Lairds Plumbing, East and West Clutches, Akerly & Childs Performance Rings and Bearings and System One Fuel and Oil Filters. At this time, Laird is in the beginning stages of landing a major sponsorship for him and his 1963 Corvette, which again, Central Speaks will be the first to release the news as soon as the details are final.
If you want to meet Harold Laird and eat his racing hot barbeque, you can find him at the Pitt Crew Barbeque on Hooper Road in Central, that is, if he's not behind the wheel of a screaming 1963 drag racing Corvette.