Editorial/Op
Mayor & Council, Please Listen to Us
By
|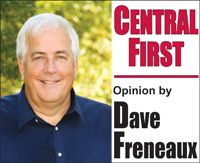 In 2014 the citizens of Central elected the six of you to represent us. To represent is "to act or speak for someone", but you can only speak "for" someone if you first listen to them. The citizens of Central deserve to be given an opportunity to tell you what they want to do about building a City Hall, and we want the respect of having you listen.
Citizens want to exercise their right to public participation, especially in decisions of this magnitude. The contracts to commit $381,000 in architect's fees should have been approved by a vote of the City Council before they were signed, and after public comment. Had that been done as the law requires, the citizens of Central would have known that the $4.5 million City Hall project was being considered, and we would have had our opportunity to speak.
Over the almost 13 year life of this City, special public hearings have been held specifically to give the citizens an opportunity to give their ideas and opinions. I have attended most of those meetings and the dialogue that resulted gave citizens the opportunity to be heard.
These special opportunities for public input have been for things as significant as the Master Plan and its proposed revisions, all the way down to the consideration of ethics rules for Central's elected officials. Why can't there be such meetings for the proposed City Hall? The citizens of Central have many excellent ideas and a collective wisdom worth listening to, and there is plenty of time for you to schedule those meetings and listen to us.
What I have heard from the citizens of Central is that building a City Hall could be a good idea, and that the old Middle School property location is a good choice made by a hard-working citizens' committee in 2014. But, the message that seems not to be heard by our elected representatives is that many believe that it is unwise to proceed with a City Hall of this size and cost, at this time, prior to the completion of the drainage study and prior to having a funded solution for the needed drainage improvements.
The six of you have the legal right by virtue of your election to proceed with this project and spend whatever money you want to and build a City Hall of your design on whatever timetable you choose. You also have the opportunity to open an honest dialogue with the citizens of Central, give them the opportunity to speak, and listen to them, and be sure that you are actually representing them, speaking for them, not to them.