School
Justin Nijoka Honored at State Capitol
By
|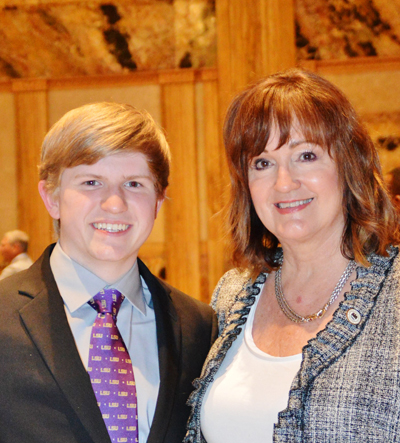 State Representative Valarie Hodges, R-Denham Springs, recognized Justin Nijoka, a National Merit Scholarship finalist at the State Capitol yesterday, and presented him with House Resolution 6, in his honor.
Justin, a senior at Central High School, was one of ten students nominated by LSU to receive the prestigious Stamps Scholarship, the top scholarship opportunity available at LSU. To receive the Stamps Scholarship, the top 50 incoming freshmen attend three rounds of competition. Justin is one of ten students to make it to round three of the competition, which consists of an interview with the Stamps Family Charitable Foundation. His nomination comes as a result of his skills, accomplishments, and potential for success in rigorous college studies.
Justin's academic achievements include Beta Club president, Mu Alpha Theta Honor Society president, treasurer of the Student Government Association and Central High School's Student of the Year. Additionally, Justin has maintained a 4.67 grade point average, is employed by the Central Community School, where he works at the computer help desk, and tutors students in his spare time.
Rep. Hodges said, "It was an honor to recognized Justin Nijoka before my fellow members, and to acknowledge his impressive academic accomplishments with HR6. He is truly an example of how hard work can pay off and open doors that lead to great success. I congratulate him on his Scholarship nomination, and cannot wait to see, what is sure to be his bright future, holds for him."
Justin was welcomed to the House Chamber Tuesday, March 27, 2018, to be recognized by Rep. Hodges and fellow members of the Louisiana House of Representatives. He was accompanied by his parents, Chris and Kim Nijoka, his grandmother, Jeannie Lively, Central High School Associate Principal, Nathan Corley, and Central Community School System Superintendent, Jason Fountain. Justin is the first student from the Central Community School System to be nominated for a National Merit Scholarship, and in the future he hopes to continue his education with an undergraduate degree in chemical engineering.