Editorial/Op
The Mayor – The Buck Stops Here
By
|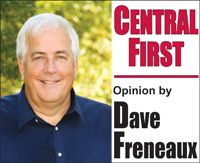 Political Truth #3 – The Mayor runs the City. The mayor has the power to perform any duty "as may be necessary or proper for the administration of municipal affairs not denied by law." That is Louisiana state law and there are very few powers and duties denied by law.
In fact, as I explained in my last editorial on the powers of the City Council, which is essentially making laws and approving budgets, everything else except police matters is under the complete control of the Mayor in a Lawrason Act municipality like Central.
In short, the mayor runs all aspects of the city other than the police department as long as he doesn't violate a law, and the City Council can't pass an ordinance that limits the mayor's authority granted by law. The mayor even gets to influence the City Council actions in that he has veto power which can stop legislation unless the Council re-votes and passes the ordinance by a super-majority of 4-1.
One important side-note: Central has privatized virtually all of its city services, from ditch cleaning to street repair to permits. The city services contractor works by contract directly for the mayor. So, what does that mean to the average citizen who does not care about politics?
The mayor is either directly responsible, or is responsible through his management of the city services contract, for: public records, pothole patching, street repair, drainage problems, permits, inspections, business licenses, sign permits, and just about anything else you can think of that a city should be doing for its citizens.
To sum it up, The Buck Stops on the Mayor's Desk. If you like how the City of Central has been run for the last three years, credit Mayor Shelton. If you don't like it, blame Mayor Shelton.
Next up, Political Truth #4 – Central Must Have a Police Chief.