Editorial/Op
What the Heck Just Happened?
By
|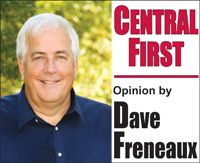 (If you haven't read the article "Council Overturns P&Z", take a deep breath, have a seat, and read it before you read this.)
– Dad, can I have $10?
– No Son, you may not have $10.
– Then can I have $5?
– Sure, here you go Son.
– Thanks Dad, now I only need $5, so can I have $5?
– Of course you can.
– City Council, may I move my business to property zoned Rural on the Thruway and build a commercial development there too?
– No Applicant, you may not.
– Then can I just move my business there?
– Sure, go ahead Applicant.
– Thanks, now may I also build a commercial development on Rural property on the Thruway?
– Of course you can.
And that is how commercial developments get built on Rural/Agricultural zoned property. Call it bait and switch, call it a slick move, call it whatever you want. I call it yet another small step forward in the march to trample Central's Master Plan and parade in overdevelopment.
I've watched for over three years now as our Mayor and Council have ignored Central's Master Plan and Zoning Code. More recently they have set out to simply re-write the Master Plan and our Zoning Code to facilitate their fast-growth agenda.
I'm actually getting tired of having to shed light on this alarming fast-growth agenda, but it just keeps on growing, so I will keep on writing. I'll say it again. Central's schools cannot keep up with this fast-growth agenda, our traffic capacity cannot handle this fast-growth agenda, and our Master Plan is the best evidence that the people of Central CHOSE to grow slowly and to retain our peaceful rural setting. That's the way I see it.