Sports
Central Tigers Take First in CAYL Tournament
By
|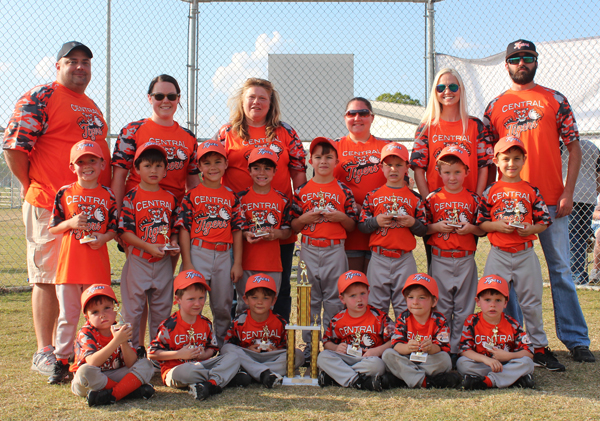 Submitted by Lori Guillory
The Central Tigers Select B T-Ball Team (ages 4-6) went undefeated to win the 2017 CAYL Pre-Season Tournament. Front Row, left to right: Nicholas "Mighty Might" Tarver Jr., Riley Quinn, Dodge Waldrop, Camden Roy, Camdyn Norwood, & Riker Crow. Middle Row Standing: Grady Starns, Grady "Speedy" Weimer, Sam "The Man" Farriel, Benton Farrar, Alex Dunbar, Landon Roy, Jeremy Palmer, Charlie Sweezy. Back Row Standing: Mike Crow (Coach), Roxanne Farriel (Asst. Coach), Lori Guillory (Director/Lead Coach), Kala Norwood (Asst. Coach), Julia Stone (Asst. Coach), and Heath Starns (Asst. Coach). Not pictured: Cade Best (Tiger), Kim Quinn (Manager) & Faustinn Weimer (Scorekeeper).
The Central Tigers would like to thank the following sponsors: Ricardo Barraza, owner of Caliente Mexican Craving Restaurant for league sponsorship, and Vecta Environmental Services for tournament sponsorship.