Business
Oak Point Shopping Center Has a New Look
By
|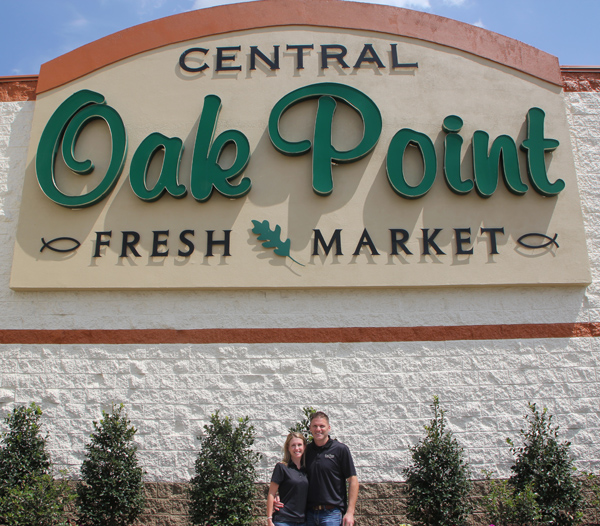 By Mia Freneaux
Oak Point Fresh Market has established a wonderful reputation for being completely invested in Central. Owners Jonathan and Lindsey Sumich say they are just following the family's tradition​ of community service. Now they are excited to announce another way they are supporting our city.
The Sumich family purchased the Oak Point shopping center in 2015. "The previous owners were from Wisconsin, and they weren't willing to reinvest in the shopping center. We were able to enter into negotiations with them and God worked it out and made the purchase the best way for us," Jonathan shares, "It's good when local folks own property – we live here, we want to make it as nice as possible." Lindsey continues, "We are so thankful to be part of such a great community. Our other store is located in Watson, and that's a great community too! We're blessed to have 2 great locations!"
Since then, the Sumichs have been involved in major renovations to the shopping center. New lighting, new paving, new paint, new facades, new signage, new landscaping, and a beautiful new outdoor dining pavilion have breathed vitalic life into what was once an aging and dated location. "Our daughters feel like they're at the beach with the new palm trees," Lindsey smiles. "We can't say enough good things about Firmin Construction Corporation," Jonathan praises, "They have been phenomenal. They have gone way above and beyond for us. They have just done a great, great job. Even after the flood, they were back on the job in just 2 days! We have been truly blessed to have them working with us."
Oak Point Shopping Center now boasts 9 great businesses in addition to the grocery store: Snap Fitness, Domino's Pizza, Ann's Nails, Go Auto Insurance, State Farm – J.P. Rice, i FIX It Mobile Device Repair, Sherwin Williams Paint, Legworks by Terri Dance Studio, and Hello Sunshine Tanning Salon. The Sumichs are proud to be associated with such quality businesses. "We want to help revitalize this area and get tenants that draw attention over here," Jonathan says.
It's been a long and involved effort, but the Sumichs are celebrating the completion of their project at last by inviting the public to their Grand Ribbon Cutting Ceremony on April 6. The event, which will begin at noon, will feature giveaways, prizes, refreshments, vendors with samples, and offerings from their tenants as well. A surprise announcement will also get the spotlight. Jonathan affirms, "We're just about the first thing people see when they enter Central. We want it to be a very welcoming sight. We love where we live and we're excited to be a part of such a great place."
For leasing information, contact Jonathan Starns at Berkshire Hathaway, Inc., 615-8055.