Business
Business Spotlight: Studio Vogue
By
|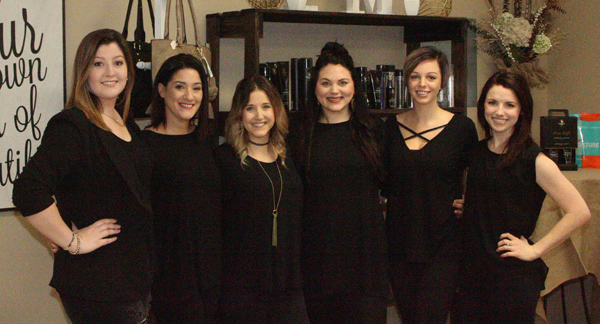 By Mia Freneaux
Walk-ins are welcome at Studio Vogue Salon in Central! Danielle Ferguson and Blayz Cannon have been in the business of doing hair and makeup all their lives! "My passion for makeup and hair came from working at Merle Norman in high school. I was always interested in doing hair and makeup. I sold cosmetics and got my hands on all of it and got my foot in the door," says Blayz. "Mine was as a little kid, I tried to cut everyone's hair," says Danielle.
Danielle took on the adventure of opening her own salon in 2013. She and Blayz became business partners in 2016 and, shortly after in May, moved into their brand new shop! Everything they sell, from purses to scarves, and the decor of the shop is a big reflection of their style. Their purses are trendy with great selection. The shop itself has a "rustic chic" feel to it. They even have a really cute coffee bar area complete with seating for while you wait!
Studio Vogue's stylists specialize in cuts and colors, eyebrow and lip waxing, facials, and hair and makeup for prom, weddings, and other big events. They carry a full range of hair care products by Paul Mitchell, as well as other great brands. The salon has a variety of stylists working there and they are all one big family! Most of the girls all went to high school together and they are the best of friends.
The young business owners are only 24 and 26 years old. They agree, "We feel pretty amazing owning a business so young, but it has its hard days for sure." They are always following up on new trends and their education. There are big things to come for Studio Vogue! Their goal is to be very well-known in the future. They want to be bigger and better and they hope for the best! Studio Vogue is open Tuesdays -Saturdays 10-6 and closed Sundays and Mondays. The stylists each keep their own hours, so be sure to call and schedule an appointment soon! They are located at 13623 Hooper Rd. Ste. F and their phone number is (225) 239-5889! They will be hiring come March and new stylists are welcome!