Community
The Healing Tree
By
|
By Mia Freneaux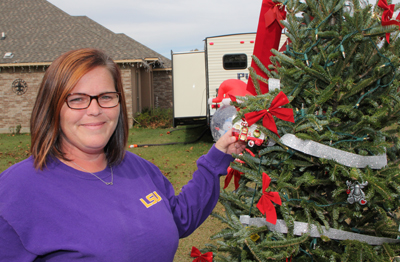 On August 13, Heather Brady's 3 year old home took on 27 inches of water. Living in Boganvilla Estates subdivision, she, along with all of her neighbors, thought she lived in a no flood zone. Everyone in Central is familiar with her story – waiting on FEMA, waiting on contractors, waiting on materials, waiting, waiting. To make matters worse, Heather lost her job due to the flood. So now a small camper encompasses her days. One would think she would be filled with self pity – but not Heather.
Heather's children asked if they would be able to still have a Christmas tree. Placing one in the tiny camper was not possible, but Heather and her husband Vic decided to set one up outside their camper. Heather wanted all those affected by the flood to get to have a Christmas tree, so she decided to share hers with the community. Everyone is invited to hang an ornament on the tree. A friend suggested the name – "The Healing Tree". Vic used a flooded cabinet door to make a sign for the tree, and folks started to come.
"As we heal, we grow," shares Heather, "and the Healing Tree grows every time an ornament is placed on it." She points out ornaments from as far away as Utah. Her own contribution is a glass camper – a fitting symbol. Her daughter asked if there would be gifts under the tree, so Heather placed a stack of presents beneath reading "Jesus is the Gift."
Heather says, "When people come by, we have a good cry together, pray together. I find some sort of healing every time I walk out and look at it. It gets hard staying in the camper all day, but I'm trying to make the best of every situation. God has me in the palm of His hand – I couldn't make it without Him." Come by 10215 South Ida Avenue and hang an ornament of Hope on the Healing Tree.