Sports
Central Karate Host 1st Annual Battle in the Bayou Tournament
By
|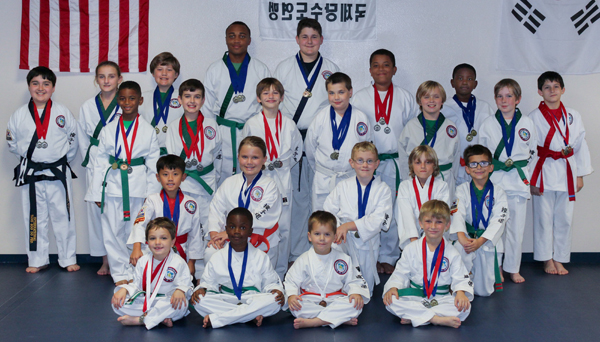 Submitted by Central Karate
Central Karate Louisiana, a proud member of the International Tang Soo Do Federation, hosted the 1st Annual Battle in the Bayou Tournament at Zoar Baptist Church on Saturday, October 15th. Central Karate Louisiana is a local Martial Arts school which teaches Traditional Tang Soo Do under the instruction of Sa Bom Nim (master instructor) Sean Kennedy, a 5th degree black belt.
Students came from Louisiana, Texas, and Florida to compete at the tournament. Schools represented were Pensacola Tang Soo Do Academy (Pensacola, FL), Zachary Karate (Zachary, LA), and Ince Karate (The Woodlands, TX). The International Tang Soo Do Federation has schools all over the World under the direction of Grandmaster C.S. Kim who resides in Monroeville, Pennsylvania.
Students competed in forms (hyung), weapons, sparring, and board breaking. A great time was had by all. "I am very proud of all of the students who competed", said Sa Bom Nim Sean Kennedy. "One of the things that makes Tang Soo Do so special is that at the end of the tournament, win or lose, everyone is family and everyone supports and encourages each other." Central Karate Louisiana is looking forward to hosting the next Battle in the Bayou Tournament in 2017.
Congratulations to the following Central Karate Louisiana students (some not pictured): Alexandra Fertitta, Shelby Carpenter, Albert Bellanger IV, Felix Thibodeaux IV, Caden Dix, Jackson David, Landon Hamilton, Scott Browning, Carson Gauthier, Davis Carlin, Herman Flintroy III, Ethan McCarty, Harley Guin, Anthony Williston, Landon Neames, Jose Camberos II, Angelle Camberos, Andrea Camberos, Alondra Camberos, Judah White, Troy Huynh, Colby Arcediano, Shelbi Lambert, Lauren Kennedy, Hayden Kuhns, Reznoir LeBlanc, Haley Tarver, Bryson Hastings, Haydon Johnson, Joseph Gomez, Keegan Estabrook, Logan Brock, Lucas David, and Gavin Dibenedetto.
If you would like more information on Martial Arts lessons, our Little Ninjas Program (ages 4-6), or our After School Program please visit our website at www.centralkaratela.com. You can also find us on Facebook or call the school at 261-6326.