Sports
Central's 1966 State Championship 50th Anniversary: Head Coach O.R. Smith
By
|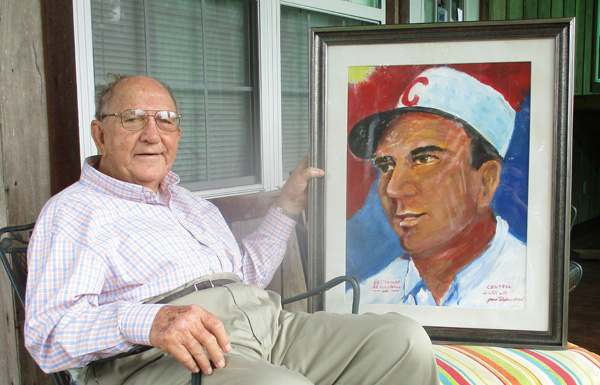 By Elva Jo Crawford
Friday, October 28 Coach Sid Edwards and the current Wildcat Football team members will be recognizing the 1966 State Championship team and coaches at half-time. It will also be "Senior Night" for our 2016 Wildcat players. So, put that game date on your calender. The following is a continuation of memories of that 1966 championship year and the people who made those memories. This issue highlights the head coach, O.R. Smith, and his life before, during and after his time at Central.
O.R. Smith, named Ottis Robert Smith, Jr. after his father, was born July 2, 1933 in Tylertown, Mississippi on a farm his grandfather had homesteaded since 1892. His father had also been born on the same property. And, when his only sibling, a sister, came along 7 years after him, she was born there, too.
O.R. grew up in Tylertown and graduated from Tylertown High School where he played football for four years under Coach Glen Slay. While he was in high school he met his wife, Mavis, who lived in Tylertown also; but, who went to a different high school. O.R says he first noticed Mavis on a shopping trip to town with his family. In Tylertown back then, he says Saturdays were "go to town" day. Mavis was there shopping with her family, too. He knew right away that he wanted to meet her and to go out on a date with her. So, he got one of his neighbors to introduce them. Since their first date would have to be a double date, O.R. had to find a date for this neighbor to be able to accompany them. And, since O.R. did not have a car, the neighbor, who did have a car, had to provide the transportation.
The rest is history——Robert and Mavis were married November 3, 1951, just a few months after he graduated from high school. He was 18 years old and she was 16. He had a job with Southern Bell Telephone Co. in New Orleans as a cable splicer's helper, making $37 per week. Even though he knew he had to keep a job to keep food on the table; he says he always knew that there was more to work than just having a job. So, he watched for opportunities to do something better as well as to do something "meaningful". On his cable splicing job, he and his boss would regularly have brand new engineering graduates coming out of college to rotate through their department for the work experience. These new graduates were making more than three times the salary that O.R. was making. After a discussion with his boss, they figured that it would take O.R. at least 15 years on his current job to make what these new grads were making fresh out of school. He figured that college should at least be a consideration for himself.
As a Christian, O.R. says that he knows that God was with both himself and Mavis, even before they met or got married. He says that through the years God has opened a lot of doors for both of them; …….and, he says,God has also closed some doors. The year O.R. was working in New Orleans turned out to be one of those years in which an "open door" was being prepared back in Mississippi. His old high school football coach, Glen Slay, had been hired as a coach at Southwest Mississippi Junior College and he gave O.R. a call offering him a full scholarship to play football there. O.R. took the offer. He says there would have been no way for him to go to college without a scholarship. So, he played football at Southwest for 2 years and finished Junior College there. During that same time Mavis, who had not yet graduated from high school, was able to finish her high school education at Southwest Mississippi Junior College. Southwest was one of several Junior Colleges in Mississippi at the time that offered both high school and college curriculums.
Another "open door" came soon after his Junior College graduation. Mississippi Women's College in Hattiesburg was transitioning to become a coed Campus and the college's name was being changed to William Carey College. With men now on campus, the school wanted to start men's sports programs, ……football being one of them. So, O.R. was offered a full scholarship to play in the fall of 1954 and 1955 on the William Carey College football team. Mavis got secretarial work to pay the rent and they moved to a place in Hattiesburg within walking distance of the campus. He says the positions he played were center, guard and line backer. As it turned out, 1954 and 1955 were the only two seasons that William Carey ever had a football team. But, with those two years of football scholarships, O.R. was able to get his bachelor's degree in Chemistry, graduating in December of 1955, finishing the four-year degree in three and one-half years.
After college graduation O.R. and Mavis moved to Baton Rouge in January of 1956 where he had gotten a job with Kaiser Aluminum as a chemist in their research department. But, unexpectedly to him, he would not be there long. In May of 1956 he was called up for military service. His full-time status as a college student had given him military deferments while he was in school; but, that had expired. So, he began two years of service in the US Army.
His military service took him to the Panama Canal Zone where he initially was assigned to "Radio School" out in the hills that were protecting the Panama Canal. Later, he applied for and was accepted to teach at the "Warfare School" at Fort Clayton, Panama. His job was to teach officers and soldiers how to best protect themselves and maximize their chances of surviving in the event of a chemical, biological, or radiological attack. Mavis was able to join him in Panama for his second year there.
After completing his military service, O.R. and Mavis came back to Baton Rouge where he took a job as a chemist with the Louisiana State Highway Department testing materials for use on the roads. But, it wasn't long before he knew that working in a laboratory was not really a fit for him. He wanted to teach. So, he found out what courses he needed to take to get a teaching certificate and started taking those courses at LSU. It took him about a year to complete the course work. When asked if he ever got tired of going to school so much, he says "No", that he loved school and never tired of going to school. By the fall of 1959, he was ready for his first teaching job———-at Central High School. There was an opening for a 7th and 8th grade General Science teacher.
He interviewed with Mr. J.A. Smith and was given the job. He says that Mr. Smith is the one who started calling him by his initials, "O.R.", instead of his given name "Robert". He says Mr. Smith told him, "If O.R. Smith was good enough for the Army, it is good enough for Central High——you are O.R. Smith." Of course, he says, even though everyone else called him "Robert", you did not argue with Mr. J.A. Smith. Today, he is still know as "Robert" by family and friends——–except in Central—–and the Army—–where he is "O.R. Smith".
His first year of teaching did not include coaching. But, it did include the birth of their first child, a daughter, Robin. He says it was a blessing that Robin came when she did, several years into their marriage, when their life was a little more settled. He and his wife had bought a house in Central, in a subdivision off Foster Road. They were attending church at Zoar Baptist, and he was in a job he liked. Their second child, also a daughter, Renee, was also born while the Smiths were still living in Central in 1964. Their last child, a son, Rustin, was born in 1975.
While teaching at Central, he had also started going back to night school at LSU to work on a Master's degree. He and Charles Burke, a math teacher at Central, were taking classes together. They both graduated the same day, together, with their Masters degrees at the LSU "Cow Palace", the John M. Parker Agricultural Coliseum. (The LSU Assembly Center/Pete Maravich Assembly Center, where most of the LSU graduations are held today was not built until 1972.) Both of them had plans even then to pursue their doctorate degrees.
O.R. Smith taught at Central High for nine years, from the fall of 1959 through the spring of 1968. Eight of those nine years he also coached football. Those would be O.R.'s only years to teach school ……..and his only years to coach football. But, those years turned out to be wonderfully full and successful years in his life as well as for many in the Central Community he was serving. His life was a lesson to many at that time about what it means to be both humble and hard working as well as successful. Even though he had played four years of high school football and four of college ball, he had never coached until he came to Central as a teacher.
It was in his second year of teaching that O.R. was asked to start up and coach a 7th and 8th grade football team. He accepted and as the years came and went he gradually moved up from 7th and 8th grade teams to become a junior varsity coach and then varsity coach. In the fall of 1965 after Head Coach Tony Misita left Central to coach at the college level O.R. was given the head coaching job and served as Head Coach for three seasons, 1965, 1966, and 1967. Under his leadership in 1965 Central won its first District Championship in Football, followed by District Championship wins in 1966 and 1967; and, Central won its first State Championship in 1966. (In 1964 Central had won the State Runner-Up prize under Coach Misita's team by way of getting a play-off berth for being the District Runner-Up that season.)
After the 1966 State Championship year, O.R. coached one more year and then took a sabbatical from the East Baton Rouge Parish School Board to fully pursue his doctorate degree. He studied at the University of Southern Mississippi in Hattiesburg and got his doctorate in Education. In May of 1970 he began his career in Administration and Counseling at Palm Beach Community College. Palm Beach is the largest county in the US east of the Mississippi with 4 community college campuses. He says he was drawn to the Community College concept since it embraced service to the whole community and community organizations, as well as the older student. It was not just an avenue for getting to a 4-year degree program. After 25 years of service there, he retired in 1995 at the age of 62. Since he was not a fisherman, and since neither he nor his wife frequented the beach, retiring in Florida was not really an option for them. They both wanted to be back in the hill country of Mississippi for their retirement. So, they moved back to his home place in Tylertown.
Today, sharp as ever at 83 years of age, O.R. says he is a blessed man. Looking back on his time at Central, he says he made some wonderful, life-long friends, many of whom he still keeps up with today. Some of his Central friends and former students and players even traveled to Tylertown a few years back for his birthday party when he turned 80. Besides being blessed with friends and former students and players Coach Smith is blessed with a family——— his wife, his three children, his 7 grandchildren, and 1 great grandchild (plus one great grand on the way.) ……….and, his Lord. Coach says God is still holding his hand every step of the way every day. He says there is a gospel song "Can't Even Walk" by Shirley Caesar that sums up his belief about his walk with the Lord Jesus Christ. Part of the lyrics are as follows:
"I thought number one would surely be me. I thought I could be what I wanted to be. I thought I could build on life's sinking sand. But, I can't even walk without You holding my hand. I think I'll make Jesus my One and my All. From now on when in trouble, only His name I'll call. And if I can't trust Him, I'll be less of a man. 'Cause I can't even walk without You holding my hand. The mountain's too high and the valley's too wide. Down on my knees, I learned to stand. And, I can't even walk without you holding my hand."
Reflecting on Central's 1966 State Championship season, he says, "God was just with us." He says that all of the statistics leading up to the championship game predicted that our opponent, Jesuit of Shreveport, would win the game; but, Central did. The very next year, fall of 1967, Jesuit of Shreveport did get their State Championship win, beating Lake Charles, the team that had beaten Central in the Semi-finals. Coach Smith says he is thankful for the coaching staff he had back then—-the best of the best. He says he had some of the best scouting coaches anywhere, many of them traveling far and wide, even on a volunteer basis, to get the best reports possible on the opponents. Two of the coaches that were on his staff in '66 have passed away, Coach Billy Alford and Coach Louis Peterson. Coach Mac Watts and Coach Larry Glover are still with us. He also says he is thankful for the players. Always gracious, he says he learned a lot from those 7th and 8th graders. He says the community and the students and parents all supported not only him as a coach; but, supported the "team". And, he says the team deserved the support—–they earned it.
God willing, Coach Smith says he is planning to be at the October 28 Reunion. Thanks, Coach Smith. And, may God bless you with many more good years to come.
Photo #1—-1966 photo of Head Coach O.R. Smith at the football awards banquet. It appeared in the Baton Rouge newspaper when he received the Class Double-A "Coach of the Year Award" from the Louisiana Sports Writers Association. The newspaper article was subtitled "Coach Smith Finally Gets Trophy"—–in all of his years playing and coaching football, Coach says this was the first time he had ever received a trophy. He still has that trophy.
Photo #2——Coach Smith today at his home in Tylertown, sitting at his favorite retirement spot—–his back porch. To his left is a portrait that one of the 1966 Central team players, Gene Robertson, painted of Coach Smith from a photo taken during the days he was a Central coach.