Business
Central Physical Therapy Opens New Facility
By
|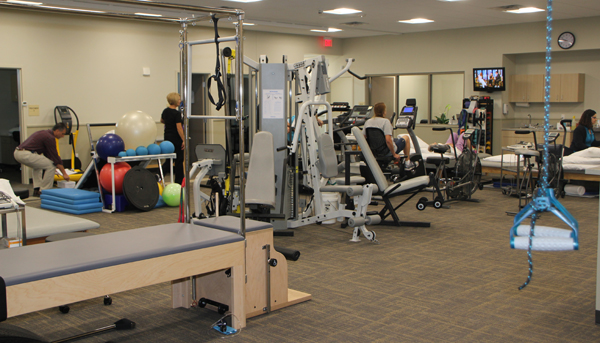 By Mia Freneaux
After about 8 years of hard work, Helen Balzli's and Tom Coplin's vision has become a reality. Central Physical Therapy will hold its ribbon cutting this Friday, June 17 at 12:00 to unveil its brand new facility. The public is invited to attend the four hour long event, which will feature refreshments, give aways, and periodic demonstrations of physical therapy techniques.
At 6500 square feet, the new facility doubles the old in size. A Fitness Room features brand new spin cycles and Pilates Cadillac reformer tables and chair. M'Lynn Ganey oversees this area as Fitness Director and Pilates Instructor. With a degree in Kinesiology from LSU, M'Lynn has her certification from Body Arts and Science International, as well as training in Pilates as Scoliosis Therapy and Shoulder Injury Treatment Techniques. She also conducts Aquatic classes in the new pool.
Yes, Central Physical Therapy now boasts a heated pool. Complete with a lift chair to assist those unable to enter and leave the pool on their own, the new construction has a 4 foot depth for therapy and a 6 foot depth for deep water exercise. Showers round out the amenities here. Aquatic Therapist Greta Savoian DPT offers Boot Camp classes in the pool as well as Physical Therapy. Greta has her clinical doctorate in Physical Therapy from St. Augustine in Florida, with certification in Manual Therapy and Dry Needling. She also holds a Black Belt in Brazilian ju-jitsu to round out her experience.
Owner Tom Coplin PT, understandably excited, shared, "We are offering a whole fitness program now. You can go online to our website at www.centralptonline.com to schedule your classes, and you can even pay online."
Now that the governor has signed the Direct Access Act, patients can schedule sessions with a physical therapist without a doctor's order, making it much easier to access, and some insurance will cover both Pilates and Aquatics treatment.
Therapist Eric Strahan DPT is now branching out into Orthotics. Continuing to work with athletes, he can utilize the new harness which runs from a track in the ceiling to help those with inability to stand on their own. This also comes in handy as a safety feature when using the new treadmill, which can reach speeds of up to 18 mph.
Therapist Richard O'Quinn PT also utilizes the harness with his vestibular patients, along with the new diagnostic room which will feature computer generated images to assist in diagnoses. Both Eric and Richard are excited about the new and spacious physical therapy room, which features up to date equipment and ample storage.
Outside the facility is located the equipment used in pre-employment testing as well as a pond with a fountain, soon to sport a walking path around its perimeter.
Central Physical Therapy is running an introductory special of 50% off on the cost of its Pilates classes through the summer. Central Physical Therapy, 13111 Hooper Road, 261-7094.