Business
The Central Chamber Report
By
|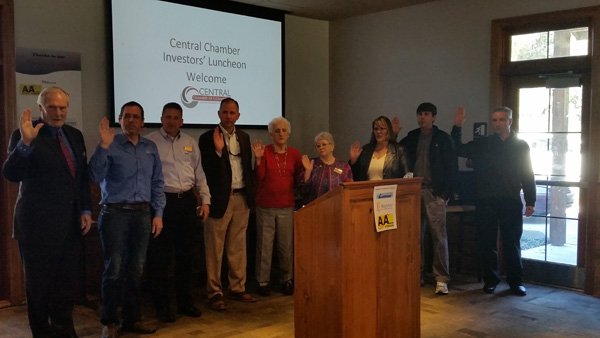 Last Wednesday, January 13, the Central Chamber held its January Monthly Investors' Luncheon and what a jam packed meeting it was! The Central Chamber of Commerce's 2016 Executive Committee and Board of Directors were sworn into office by Central's Justice of the Peace Mark Miley. As an added bonus, board member and former councilman Aaron Moak was sworn into office as a new member of Planning and Zoning by Mr. Miley and Mayor Junior Shelton. To wrap things up, Mayor Junior Shelton addressed the Central Chamber Investors on the State of the City of Central. It was insightful to hear about all of the different projects taking place in Central. From road projects to housing developments, the economic future is looking great for Central.
Throughout the year we will continue to bring a variety of speakers to our Monthly Investors' Luncheons. You can be a part of these informative luncheons as well. To find out how, contact the Central Chamber at 261-5818.
As stated last week, congratulations to the following: The Executive Committee for 2016 is Chair – Stephen David, Whitney Bank; 1st Vice Chair – Michael Loolara, State Farm; 2nd Vice Chair – Heidi Wendt, Ochsner; Treasurer – John Kovalcik, Greater Baton Rouge Signs; and Past Chair – Wayne Leader, AA Mini Storage & Central Supersuds. Additional Board Members are Brockwell Bone, Aptus Marketing; Ti Barnes, Walton J. Barnes II APLC; Reda Cockerham, CJ Brown; Si Kora, KG Capital Management; Tim Lazaro, RV Cams; Michelle Lewis, Lewis Wrecker; Aaron Moak, Computer Evolutions; Tommie Morden, Central City Chapeaux Chicks Red Hat Society; Kevin Rogers, Rogers Regional Eye Center; Lucky Ross, Ross Tire and Services; and Russell Starns, Chase Health Care and Nursing PRN.