Business
New Business Spotlight: Dawn's Sweet Tooth
By
|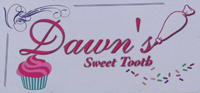 By Mia Freneaux
Dawn's Sweet Tooth is run by Central resident and Starkey Academy graduate Dawn Amato. Dawn developed a passion for cooking while only a middle school student. This love blossomed into "Dawn's Sweet Tooth", a bakery which features so many mouth watering options one wonders how she has the time to create them all! Cake balls swirled in rich chocolate, cannoli filled with light-as-air cream, decadent brownies, elegant petits fours are all regularly available for a little self-indulgence or a special event. Homemade pies in every flavor with flaky, melt-in-your-mouth crust can be made to order. In addition, sheet and layer cakes can be ordered in advance for weddings, birthdays, showers, or any event you consider "cake-worthy." Wrapped in luscious butter cream frosting or satiny smooth fondant, these delicious cakes are decorated beautifully by Dawn herself. Naturally, she made her own wedding cake – all 6 layers!
Apprenticing first at Baum's Bakery, then Ambrosia Bakery, Dawn rose through the ranks to become manager, learning from the ground up the art of baking, assembling, and finally decorating a myriad of confections. This hands on experience gave her the confidence to open her own bakery here in lucky Central, and landed her with a first place award in the Culinary Classics Competition for her "Heaven-in-Your-Mouth" Chocolate Coffee Mousse and Cheesecake. Ably assisted by her mom Annette Bonaventure, Dawn is available to make your dream come true, whether it be a bride's wildest imaginings to the perfect ending to a holiday meal.
In addition to keeping her refrigerated displays stocked with goodies, Dawn also creates for Bayou Bistro Catering. She is gearing up for the Mardi Gras season, with King Cakes being offered after January 18. Filled with your choice of cream cheese, fruit, chocolate, praline pecan or whatever combination you desire, the cakes are liberally anointed with purple, gold and green icing and swirled with cinnamon in the best New Orleans style. Order yours now for celebrating!
Dawn's Sweet Tooth will be holding its ribbon cutting and open house on January 18 from 10am-4pm with LOTS of samples of her amazing creations. Come by and help her celebrate! Follow Dawn's Sweet Tooth on Facebook. Dawn's Sweet Tooth Bakery. Dawn's is located at 13623 Hooper Road, Suite A, Central, LA 70818 and can be reached by phone at (225) 261-0090 or fax at (225) 261-0081. Store hours are Tuesday-Friday 7am to 5pm, Saturday 7am to 4pm and closed on Sunday & Monday.