Announcements
Tiffany Nelson and Corey Plunket Wed at Galilee Baptist Church
By
|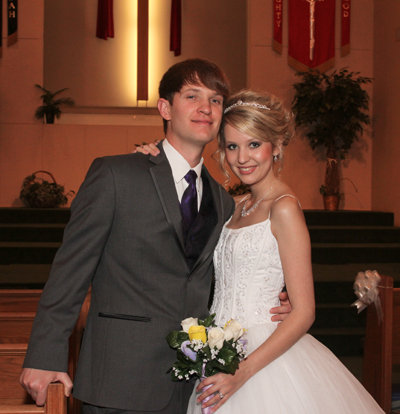 Tiffany Nelson of Zachary and Corey Plunket of Central were married on November 9, 2013 in a 5:00 pm ceremony at Galilee Baptist Church in Zachary, Louisiana. The wedding was officiated by Brother Ron Lowery.
The bride is the daughter of Joseph and Annette Nelson of Zachary. She is the granddaughter of Wayne and Joyce Adams of Zachary and Essie Nelson of Slaughter. Tiffany is a graduate of Zachary High School and is currently a paralegal student and employed at the Roedel Parsons Law Firm.
The bridegroom is the son of David and Robin Plunket of Central. He is the grandson of George and Alda Plunket of Central and Richard and Sandi Woest of Jarreau. Corey is a graduate of Central High School and BRCC and is currently employed at Placid Refinery.
The bride was attended by her maid of honor, sister Emily Nelson, and bridesmaids JayneClair Moore and Kelsey McDaniel. The bridegroom's best man was his brother, Colin Plunket. Groomsmen were Joseph Nelson Jr., Christopher Vosburg, and Jesse Nelson.
The reception was held at Kristenwood Reception Hall in Central. After a trip to New Orleans, the couple will reside in their new home in Central.