Health
Healthy Recipe: Overnight Oats
By
|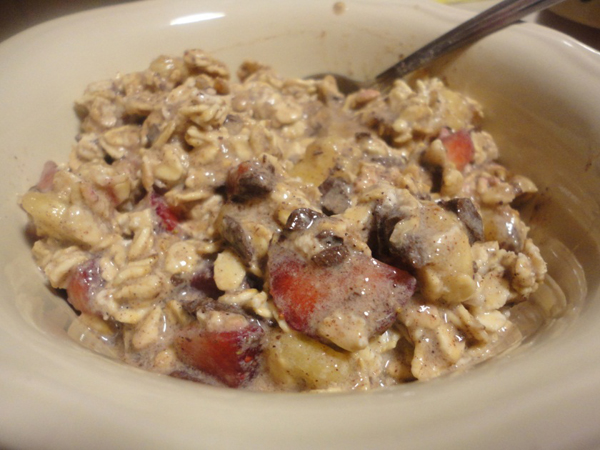 By Rachel Firmin
When someone says that they had oatmeal for breakfast, a few things come to my mind:
1. Oatmeal is a very healthy breakfast.
2. The sugar-filled maple and brown sugar Quaker Oatmeal, which is not a very healthy breakfast.
3. The reason why oats, and not oatmeal, is one of my favorite foods.
I love oats, but I'm not a huge fan of oatmeal. Unless it is about 32 degrees outside and the heater isn't working, I don't crave oatmeal, but I do crave this breakfast.
These oats are made the night before and stored in the refrigerator overnight. They are served cold, which means they make a great summer breakfast, and, if you're rushed in the morning, all you have to do is grab a spoon and run out the door!
½ cup old fashioned oats
1 cup skim milk or other milk of choice (unsweetened almond milk tastes great!)
1 small banana
¼ cup chopped berries
1/8 cup chopped walnuts
Cinnamon, to taste
The night before, slice banana and place in large bowl. Toss in old fashioned oats, berries, walnuts and cinnamon. Pour over 1 cup of milk, mix and set in the refrigerator to cool overnight. The next morning, simply remove and enjoy!
These oats have a great pudding-like texture and taste like dessert for breakfast. Plus, you're getting the healthy fiber from the fruits and oats without having a clumpy, hot breakfast. So, to all of those who refuse to eat oatmeal, go try this recipe! You won't believe it's the same food!