Community
Blessed and Highly Favored
By
|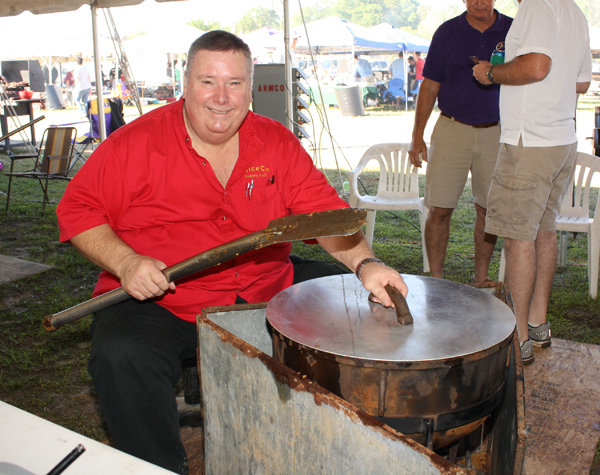 Matt Price at this year's Cooking in Central
By Mia Freneaux
Anyone who knows Matt Price of PriceCo has heard him utter the phrase, "Blessed and Highly Favored!" when asked how he's doing. The origin of that phrase is an amazing story.
In October of 2004, Matt discovered a lump in his abdomen. His doctor sent him to a surgeon, thinking it was a hernia. The surgeon was convinced it was not, and after studying a CT Scan, determined it was a tumor. When Matt asked what could have caused it, his surgeon responded, "Bad luck!" A trip to the oncologist revealed a volleyball sized tumor that had wrapped itself around his stomach and intestines. A biopsy showed it to be non-Hodgkins lymphoma.
The difficulty with non-Hodgkins is that it is, except in rare cases, inoperable. The wrong kind of surgery can lead to death within days. Matt was diagnosed with Stage 5, very advanced cancer. This stage is normally fatal. Riding home from the doctor's, Matt's wife Kathleen remembers breaking down and crying. Matt told her, "Don't cry, I'm not leaving! I'm BLESSED AND HIGHLY FAVORED."
Aggressive chemotherapy was prescribed. So, starting in October, Matt went in every weekday for 12-14 hours of chemotherapy. His sense of humor kept everyone in good spirits. After receiving chemo for 7 months, he was given a month of radiation. At his last treatment, he brought the technician a fork "to stick it in me and see if I was done!" His great attitude and the prayers of people all over the country are what he and Kathleen attribute to his recovery. "We had a friend who went to church every day and lit a candle for me, then prayed with her kids every night for us," he shared.
"We were at a seminar in Dallas, Texas," Matt remembers, "and a minister from South Carolina was there with anointing oil from the Holy Land. He offered to anoint me, and everyone there prayed for us. A week later, the cancer started abating." Kathleen added, "We got through this with the grace of the Good Lord." After his course of treatment, his oncologist was delighted to confirm that the cancer was gone. He has been cancer free for 5 years now.
"While Matt was undergoing treatment, I had to quit my job to take care of him," Kathleen said. They bought the business they have to this day, and Kathleen drove the route herself for several years. "It's interesting how God leads us in different places," she mused. She and Matt credit the support they received from family and friends and church in getting through his ordeal. They also acknowledge the importance of support organizations. "They are very valuable, they educate people, tell them what to expect, and offer practical aide. They fill a very important role for those who have no support system. It's important to know you're not alone."
When Matt was declared cancer-free, he and some friends went on a 1500 mile motorcycle ride through Alabama, Tennessee, and Kentucky to celebrate. To this day, he has a huge grin on his face whenever he greets anyone, for no one knows better than he does just how BLESSED AND HIGHLY FAVORED he is.
The American Cancer Society's Relay for Life will be held Saturday, April 14 at Zoar Baptist Church. Show your support for cancer research by making a donation of time or money – visit www.relayforlife.org/centralLA