Health
Healthy Recipe: Baked Egg Rolls
By
|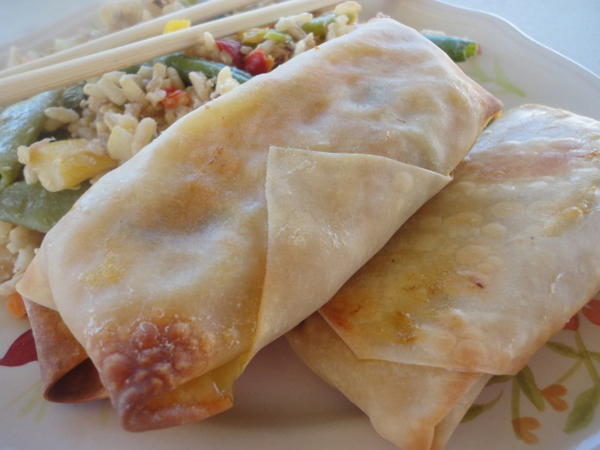 By Rachel Firmin
Chinese food is one of those cravings that come again and again and again! Sadly, with the high sodium content and methods of deep frying, many of our favorites, such as egg rolls, aren't realistic options for everyday meals. Because of this, I've experimented with a few ways to make these occasional treats into a healthy, quick, go-to dinner recipe. Using reduced-sodium soy sauce drastically reduces your salt intake and omitting the frying reduces the calorie content. Serve alongside brown rice mixed with steamed vegetables and 3 oz. of grilled fish for a full meal!
1 Tbsp. Olive Oil
4 cloves minced garlic
3 Tbsp. chopped green onions
1 head Napa cabbage
3 medium carrots
1 15 oz. can bean sprouts, drained & rinsed
1 8 oz. can water chestnuts, drained & rinsed
1 Tbsp. minced ginger
2 Tbsp. Reduced Sodium Soy Sauce
16-20 egg-roll wrappers
You will also need a non-stick baking sheet, a food processor, a large skillet, and ¼ cup water
1. Preheat oven to 400 degrees and begin to heat 1 Tbsp. olive oil in large skillet over med-low heat until warm, but not smoking.
2. Add the green onions and garlic and sauté until soft, about 1-3 minutes.
3. While the oil is warming, prepare the vegetables by rinsing the cabbage and carrots and patting dry. Chop the cabbage thin enough to resemble taco lettuce and place in large skillet with sautéed green onions and garlic and allow wilting to occur.
4. Process carrots and water chestnuts in a food processor until diced. Then, combine this mixture with the bean sprouts and the cabbage in the skillet. Raise heat to med-high and stir to combine.
5. Season with ginger and reduced-sodium soy sauce and remove from heat.
6. Now onto preparing the rolls! Flatten 1 egg roll wrapper and place about 2 rounded Tbsp. of vegetable mixture diagonally in the middle of the wrap. Fold up the bottom corner, then the right and left sides and roll up. (Many egg-roll wrapper packages have step-by step images on the back that are very helpful as a visual tool!) To seal the wraps, dip your fingers in water and run alongside the edges of the wrap.
7. Repeat until all wraps are completed and vegetable mixture is used up. Place egg rolls on nonstick baking sheet and lightly mist with nonstick cooking spray, if you would like. This results in a bit crispier egg roll. Bake for 12 minutes, flip and bake for additional 10 minutes. Let cool 1-2 minutes and serve!