Community
Family United Across Continents
By
|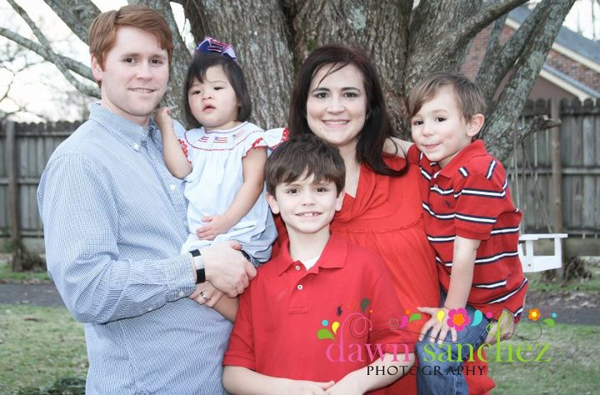 By Mia Freneaux
This week a lovely little angel in matching polka-dot bow and shoes visited the offices here at Central Speaks. Watching little Isabel run around and explore everything with lively curiosity, it is hard to imagine that she has the history she does. Isabel was found in the waiting room of a Chinese hospital, abandoned by her mother at birth because she was premature, and female. She weighed 2 pounds, and was suffering from pneumonia. Taken to an orphanage, Isabel battled pneumonia again, spending a month in a hospital, with her caregivers being told that she wouldn't survive. But God had other plans….
Enter Central residents Paul-Michael and Brittany Fryday. Several years ago, after the birth of their first son Grayson, they looked into adopting a child from another country. "We've always felt it was in God's plan for us," Brittany said, "We've both always had a heart for orphans and support several orphanages monthly." Brittany became pregnant with their second son Eli at that point, so the adoption was postponed. When Eli was about 2 ½, they again decided to look into the possibility, and were led to a San Francisco based agency owned by a Chinese American that concentrated on adoptions from China.
Over 20 years ago, China's government imposed a policy of single child families to combat the huge overpopulation problem it faced. With one quarter of the world's population within its boundaries, there were not enough resources to support such a huge number of people. Severe financial penalties are imposed on families with multiple children. "More than half of a family's yearly income is taken if they have more than one child," Brittany informed me. With the importance in Chinese culture placed on male sons, most children in orphanages are female. Brittany also said that most families do not have the wherewithal to support handicapped children, so they are also abandoned. It is important to note that orphanages are for the most part not filled with orphans, but abandoned children. They are found in hospitals, train stations, parks, markets. Estimates are that there are 1,000,000 abandoned children in China, slightly under the population of Rhode Island. To search the internet about China's orphanages is to experience heartbreak.
The part of the orphanage where Isabel was placed is run by an Australian Christian concern. It has 50 children at present. The other half of the orphanage is run by the government and has 300 children in it. China must subsidize electricity, so there are set hours during the day when there is no power. Brittany shared, "It was colder in the orphanage than it was outside. Isabel was wearing 5 layers of clothing indoors. 4 "nannies" care for the 50 children. There are so many children that they spend 19 hours a day in a crib because there are not enough caretakers to look after them." Isabel's legs were so weak when the Frydays brought her home that Brittany was afraid she had cerebral palsy. As it turns out, despite her harrowing beginnings, Isabel is a healthy little girl whose only issue at present is a wandering eye, a common problem among children raised in such conditions. The Frydays are having this corrected next month.
Isabel was considered "special needs" because of her premature birth. At 2 ½ years of age, she only weighs 22 pounds, and this is after gaining 3 since she's come home to the States. "We received files on several children, all having some sort of special need. After talking to our pediatrician and praying about it, we chose Isabel." Brittany credits the Lord for the smooth path throughout the adoption process. China has now imposed severe age, marital status, and even weight requirements on prospective adopting parents. Paul-Michael and Brittany had to go through 10 hours of classes. The paperwork is involved, culminating in receiving a LOA, or "Letter of Acceptance." Amazingly, a process that can take 5 to 7 YEARS to complete took the Frydays 10 months, a miracle that Brittany attributes to God's grace. When their LOA came through, the entire Fryday family packed up and went to spend 18 days in China to go through the necessary channels to bring Isabel home.
Adopting a child from overseas is not a cheap process. Brittany shared that it cost the Frydays $25,000.00 to adopt Isabel. "We held yard sales, jewelry sales, t-shirt sales. We received TONS of donations from residents of Central – she was truly brought home by this community." The rest of the money the Frydays were able to finance with a loan. Isabel came home on December 23 last year. Her name, "Isabel Wen" ("Wen" is the name she was given in the orphanage) means "God's beautiful gift." "Everyone prayed that she would know immediately that this was her family. She came right to us! She is non-stop, happy-go-lucky. Her big brothers love her. I truly believe that God lines a child up with a home," Brittany stated simply.
In China they have a proverb about a "red thread" that begins the day you are born: "An invisible red thread connects those destined to meet, regardless of time, place, or circumstances. The thread may stretch or tangle, but never break." God made sure that little Isabel's thread would reach halfway across the world, to the loving arms waiting for her.
The Fryday family would like to offer heartfelt thanks to the people of Central for their prayers, support, and financial help through this entire process. You can see the moment Isabel met her new family on Youtube; search "Isabel Wen's Gotcha Day." Brittany has kept a blog throughout the process, it can be found at www.faith-without-works.blogspot.com.