Health
Healthy Recipe: Old-Fashioned Drop Biscuits
By
|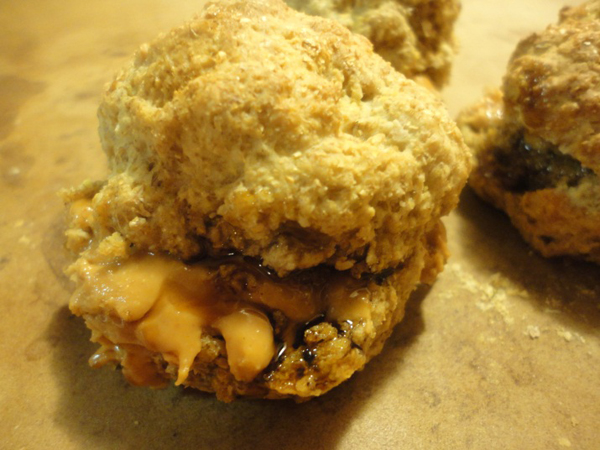 Breakfast is by far my favorite meal of the day. I love to wake up early and experiment with a new recipe or simply throw things into a bowl and see what happens. Occasionally, I'm stuck eating an almost inedible and completely opposite item than what I had originally imagined, but other times—like with these biscuits—I surprise myself with how well they turn out. I've had a go-to biscuit recipe for a while, but it was never a 100% keeper. This one is. These biscuits are crumbly and light while containing no added sugar and no saturated fat.
Makes 15 Biscuits
1 cup Skim Milk
2 Tbsp. Apple Cider, or Regular Vinegar
1 cup Whole Wheat Flour
1 cup White Whole Wheat Flour
1 ½ tsp. Baking Soda
1 tsp. Baking Powder
½ tsp. Salt
In a medium sized mixing bowl, combine 1 cup milk with vinegar. Give it a quick stir and let it sit for about 2 minutes to curdle. This mixture takes the place of buttermilk to prevent adding any extra fat and can be used for many recipes! Preheat oven to 400 and gather other ingredients. Add all remaining ingredients on top of milk mixture and give a quick stir just until combined and a dough forms. Grab a small handful (about 2 Tbsp of batter) and roll between hands for a moment before dropping onto non-stick cookie sheet. The biscuits should be placed about 1 inch from one another. Bake at 400 degrees for 12-15 minutes until top is crispy. Let cool for about 2 minutes before slicing and stuffing with your favorite fillings!
At just 60 kcal per biscuit, 3 of these with 1 Tbsp. Peanut Butter, ½ a banana, and 1 cup skim milk is only 420 kcal for a well-balanced breakfast that will keep you full & satisfied. They are whole grain & a great source of fiber, which has been shown to promote digestive health and keep you fuller longer. Enjoy!