Sports
Central Private Stomps the Amite Rebels
By
|
By Patrick Tate, Photos by Selser Photography
The Central Private Rebels were able to bounce back from a week one defeat to overcome the Amite School Rebels by the score of 50-0 on Friday night. After weathering a short rain down pour before the game, the Rebel offense poured down points. It was a multi-faceted attack that led the Rebels.
After stopping the Amite Rebel on downs, CP began a 5 play 68 yard drive to open the scoring. The drive was highlighted by 2 pass plays from Luke Fryoux to tight end Taylor Fletcher for a total of 58 yards. Ryan Bowman who had 208 all purpose yards on the night added 20 yards rushing on the drive. Trevor Shepherd toted the ball the last 5 yards into the endzone for the score. He then dashed in for the two point conversion.
After forcing a punt by the ASC Rebels, CP again reached pay dirt, this time from 20-yards away on a Bowman run. Shepherd again added the 2-point conversion with a plunge into the endzone. A 22 yard punt return by Bowman set up the next CP score, a 13 yard run by Shepherd and a 2-point run by Bowman made the score 24-0 at the half.
Bowman started the second half with a 45-yard kickoff return that led to a Dustin Johnson 7 yard blast into the endzone. Johnson also added the hit of the game as he separated an ASC receiver from the football later in the 3rd quarter with a pop that had the crowd gasping. The extra point was missed when the snap was fumbled and CP had a 30-0 lead.
Fryoux hit Shepherd with a sixty-six yard pass and run for the next Rebel score but this time the kick was blocked and the score remained CPS 36 ASC 0. Zach LeBlanc added a 17-yard run for a score and this time Shepherd kicked the extra point for a 43-0 lead.
The scoring concluded when Shepherd took a pitch around right end and got a block from Ward Leavines that led to a 67-yard touchdown. Shepherd again added the extra point and the game ended with a 50-0 win for the Central Private Rebels. Shepherd finished the game with 8 carries for 148 yards.
The Rebel defense led by Cody Overstreet and Chuck Conrad limited ASC to 88 yards of total offense in the shutout. Central Private returns to action at home on Friday night at home when the take on the Baton Rouge Patriots and highly touted quarterback Stevie Douglas.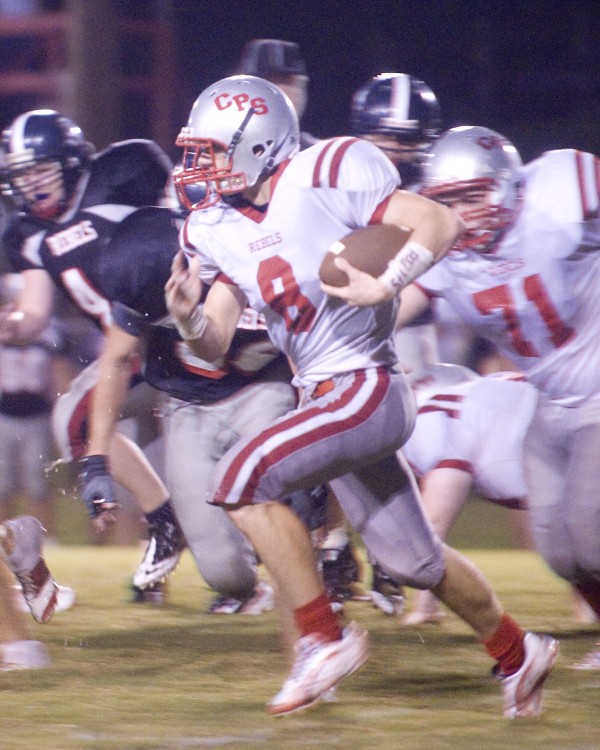 Above: Trevor Shepherd runs the ball with the support of his fellow Rebels.