Community
Greenwell Springs Library Re-Opens, Continues with Flood Recovery
By
|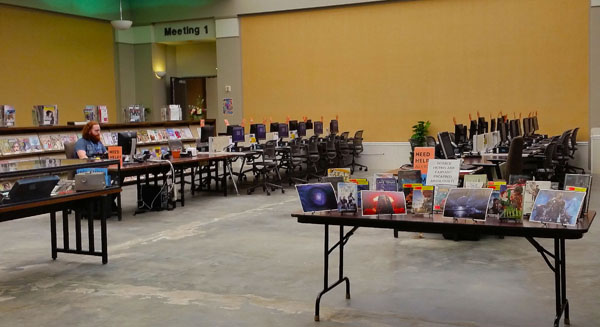 EBRPL Press Release
It had been closed since the Historic Flood of August 2016, but on March 3 – after almost 7 months shuttered for repairs — the Greenwell Springs Road Branch Library re-opened with a regular schedule – 7 days a week. Regular hours of operation are 9 a.m-9 p.m. Monday through Thursday, 9 a.m.-6 p.m. Friday and Saturday and 2-6 p.m. Sunday.
During the flood, the Greenwell Springs Branch, located at 11300 Greenwell Springs Road, suffered 4 to 6 inches of water in the facility's interior (first photo, immediately after the flood at the Library's entrance). There was extensive damage to the floor, walls, millwork, cabinets, furniture, equipment and supplies. Floodwaters caused the loss of 16,000 circulating items. However, most of the Library's collection was saved and now has been updated with new purchases and transfers of items from other libraries.
On March 3, staff, (second photo) including Kevin McDuffie assigned to the reference desk to help patrons with reference and computer questions, were eager to get back to work and serve area patrons of the Library. At this time, 65 percent of the Library is open to the public, and we ask patrons please be patient as the Library makes plans for a major renovation. Residents throughout the community are invited to participate in an informal architectural charrette 2-4 p.m. Monday, March 20, or a formal presentation 6:30-8 p.m. that same day at the Greenwell Springs Library.
For more information, call Greenwell Springs Library at (225) 274-4450, the Main Library at (225) 231-3750 or visit us online at www.ebrpl.com.