Community
Local Mom Working with CFD to Bring Project Lifesaver to Central
By
|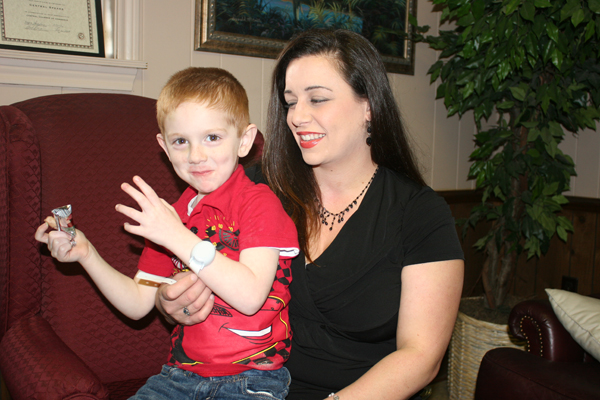 Randi Stephens, pictured above with one of her sons, is a remarkable woman. The mother of two young autistic children, she saw a need and found a way to meet it. "We had moved to Port Allen from Raleigh, North Carolina. In Raleigh, we had a system in use to keep track of our son, who is a flight risk. Once we moved to Port Allen, there was no such system available. That year, a 6 year old child with autism left a Christmas party and was run over by a car and killed. I knew I had to do something." Randi found a nation-wide system called "Project Lifesaver", a search and rescue program founded in 1999 by an initiative of the 43rd Search and Rescue Company of the Chesapeake, Virginia Sheriff's Office. It features personal radio transmitters which are placed on identified "flight risk" individuals, such as those with Autism, Down's Syndrome, or Alzheimers. Responders go through training to know how to handle the equipment and reassure the confused, frightened individuals whom they rescue. Since its inception, Project Lifesaver has saved about 3000 individuals, most in less than half an hour. The Port Allen Fire Department was approved for the program in early March and has been very impressed with its accuracy. A spokesperson for the Fire Department said the program has such accuracy that they were able to locate the transmitters in hidden locations all over town in LESS THAN 11 minutes. "It's very quick, very helpful," she said.
Randi moved to Central recently, and wanted to start the same program here. She contacted Coach Sid Edwards, who himself has two autistic children. Coach Sid, once he heard about Project Lifesaver, became very enthusiastic and arranged a meeting with Central Fire Department Chief Bill Porche. After researching the project, Chief Porche and the CFD wholeheartedly embraced the concept. "We've had experience before with dementia patients wandering off. This is a great method to reduce the time it takes to locate these patients. Search and rescue operations are always made more difficult in wooded areas or darkness, and the personal locators will be a great assistance," Chief Porche stated. Project Lifesaver is the only manufacturer of the innovative equipment used, which consists of a battery powered bracelet for the individual to wear (seen above on Randi's son) and a 5 band receiver, vehicle antenna, and headsets for the rescuers' use. Medicare, Medicaid, and some private insurance companies currently cover the devices in certain states. Caregivers are only responsible for checking and changing the battery, which lasts 30 + days depending on the battery chosen. As soon as the CFD is approved to participate in the program, fundraising will begin to cover the department's equipment costs. "I don't think we'll have any problem getting approval," shared Emily Clark, who is in charge of the application process.
Those interested in finding out more information on the program can go to Project Lifesaver's website, www.projectlifesaver.org, or call them at 877-580-5433. Project Lifesaver is endorsed by the National Autism Association, The Alzheimer's Foundation of America, and many Sheriff's Associations across the country.
Stay tuned for updates on the process and ways you can help.