Announcements
Kayla Morris and Cristian Canales Welcome Daughter Baileigh Jo
By
|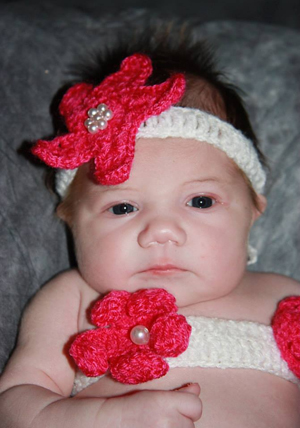 Kayla Lynn Morris and Cristian Bryan Canales proudly announce the birth of their second child, Baileigh Jo Canales.
Baileigh Jo was born at Woman's Hospital February 11, 2014 at 5:22 a.m. She weighed 8 pounds 12 ounces and was 21 inches long.
Proud grandparents are Jesse and Rebecca Powell of Denham Springs; Sueanna Canales of Greenville, MS; and the late Lorenzo Canales. Great-grandparents are Randall and Cathie Young-Kin of Central; Bob and Teresa Sedlak of Pensacola; Larry Powell; and Sandra and Melvin Tyler of Alexandria. Aunts are Katie, Taylor ,& Kryssa Morris and Hailey Canales; Uncles are Brandon & Paris Morris, Brandon & Juan Canales. Great aunts are Carol Harris & Brandi Johnson. Great uncles are JJ Matherne and David Powell. And Baileigh's guardian angel brother: Bentley Bryan Lorenzo Canales.