Community
New Event Center Opens
By
|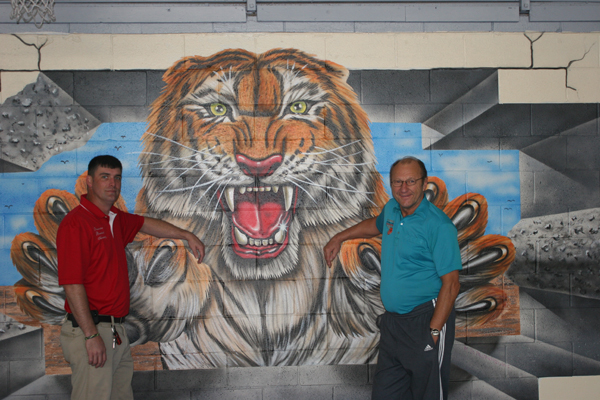 By Mia Freneaux
Central resident Ed Palubinskas (pictured at right above) has had a storied career. A member of the Australian Basketball Hall of Fame, Ed played in the 1972 and 1976 Olympics while playing basketball for LSU. Ed was then drafted by the NBA's Atlanta Hawks. He holds 2 Guinness World Records for Most Free Throws, and he is in demand the world over as a shooting coach. This year he will be attending basketball conventions in London, Jamaica, Russia, Lithuania, and Geneva.
Ed has recently opened the Palubinskas Basketball Academy and Event Center, located in the old Starkey Academy Gymnasium, offering private instruction in shooting and men's and children's league play opportunities. Ed is in the process of forming a women's league as well. An extremely talented artist, Ed has decorated the walls of the academy with amazing artwork. Baseball and softball instruction are offered and fields behind the gym are being used for team practices. A weight room is available. He opens the gym on school holidays for free play at low cost. Future plans include Zumba, tai chi, and senior exercise. Ed is also looking for instructors to use the facility. Volleyball, coaches' clinics, and major tournaments are all in the planning stages, with the idea of eventually expanding the size of the building. "I truly want this facility to be the 'Heartbeat of Central' where the people are the pulse!" says Ed.
Ed's Director of Operations is lifetime Central resident Matt Ross (pictured at left above) who played ball at Central Private School. A coach in Central Biddy Ball youth activities, he is in charge of promotions, marketing, and scheduling of all activities for the "PBA".
The easily accessible location of the academy and its high traffic volume make it a great venue for a variety of events. A Gun and Knife Show is scheduled in April. Activities of all kinds, such as birthdays, Political Rallies, Arts and Crafts shows, Community Yard Sales, and Fund Raisers, can all be scheduled in this great location. The Chamber of Commerce has held its Mardi Gras Ball there the last 2 years with great success. There is also opportunity for local businesses to place ads in the "Corporate Wall of Fame" in the gym.
Ed's motivation is clear – he enjoys helping people meet their potential and overcome fears. "I don't want to meet the Lord one day hopefully in the far distant future and hear Him say, 'Alright, Ed, remember that 4000 hours you spent watching TV? What have you achieved, who have you blessed?' When my students are successful, they can then turn around and bless others. This is why I do what I do."
Palubinskas Basketball Academy, 10510 Joor Rd., 252-2466, find us on Facebook!