Sports
CHS Girl's Bowling Upsets Holden
By
|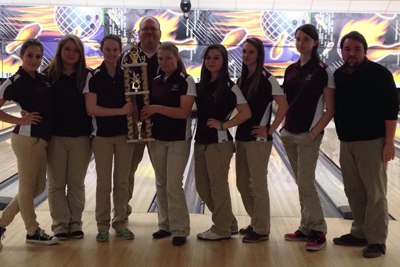 By Coach Godley
Central High Girls Bowling (3-0) proved Monday (2-3-14) that they can bowl with the best teams around. Not only did the Wildcats up their winning streak to 3 matches, but they upset Holden (1-2), the 2013 State Runners-Up.
Game 1 started off a little rough for Central with Holden grabbing an early lead, 6-2 and Total Pins 790-777. Central was led by Team Co-Captain Sarah LeDuff (Sophomore) with a 182, but it would take more than just one bowler to get back into the match. Fortunately, Game 2 saw the Wildcats put together one of the most balanced games of the season en route to their highest game in CHS history with a 901 to Holden's 846. The Wildcats were once again led by LeDuff (225), followed by fellow Co-Captain Haley Young (Junior) with a 180 and Brittnee Robinson (Freshman) with a 153. Central would ride the good scores to a 5-3 Game 2 finish. Going into the final game the score couldn't have been any closer with Holden holding a slim 9-7 lead, but Central holding a 42 pin lead in Total Pins.
Central came out swinging in Game 3 and dominated Holden throughout the final game. Young led the Wildcat attack with a 177, with LeDuff adding a 166 and Kaylee Robinson (Sophomore) chipping in a 152. Central would take Game 3 6-2 and 824-772 to complete the upset. In the end, the Wildcats would win the match by the final score of 16-11 and 2502-2408 in Total Pins. Overall, Central was led by LeDuff with a 573 series (a team high for the season), Young with a 482, Brittnee Robinson added a 432 (99 pins over average) and Kaylee Robinson's 415. Holden was led by Mallory Bertone (181/468) and Gabrielle Reynolds (186/444).
Central's coaches have been looking forward to this match since the schedules came out to see just how much this young team could compete. And the young Wildcats responded tremendously. In fact, Holden's 2408 series was a season high and Central topped that by almost 100 pins. Central Girls go for 4 in-a-row against co-district leading Redemptorist (3-0) on Monday (2-10-14) at Circle Bowl (3:15pm). Note: Central's match against St Joseph from last Wednesday (1-29-14) was rescheduled for later in February due the weather closing schools in the Baton Rouge area.