Sports
Wildcats Now 4-0 in District
By
|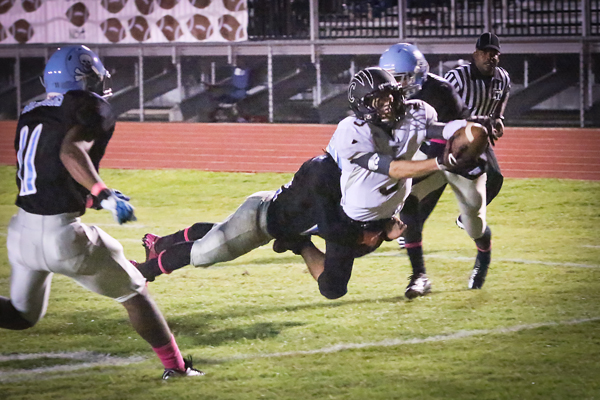 Photo by Michael Spangler
Central scored another solid win on Friday at Broadmoor High. The Wildcats won 41-12 over the Buccaneers, bringing their record to 4-0 in district and 7-1 overall.
Central scored twice in each of the first 3 quarters. Quarterback Jarrad Hayes had a big game, throwing for 255 yards and four touchdown passes. Gary Triplett, Joseph Pourciau, and James Schopp all caught passes for touchdowns, with Schopp scoring twice in the second half. Leo Brownfield led Central's running game, breaking 100 yards and taking a short run for a touchdown. Caleb Harris also ran in a touchdown. Terrell Chatman led the receivers in receptions and yards, averaging 14 yards each on 5 catches.
The Wildcat defense came ready to play, with 17 defenders combining for 41 tackles, 5 tackles for loss, 4 sacks, and 4 interceptions. Broadmoor put up two touchdowns, one on a fumble recovery in the second quarter, and one on a 15-yard run in the fourth.
Homecoming Friday against Walker
The Wildcats will take on the Wildcats when Walker High comes to town at 7PM this Friday to face Central High. This will be Central's Homecoming game. Walker has had a rough go of it this season – they are currently 0-4 in district and 2-6 overall. However, every opponent should be taken seriously, and Central plans to do exactly that. Thank you to the community for all of the support you have given the Wildcats this season, and we hope to see you there for Central's final two games this Friday and next, both at home in Wildcat Stadium.